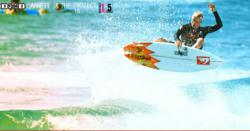 over 1400 new surfboards stocked in four stores throughout the East coast of Australia
(PRWEB) December 09, 2011
With over 1400 new surfboards stocked in four stores throughout the East coast of Australia, Surf Shops Australia has the largest selection of any retailer in the country. On 9th December 2011 their fifth store will open its doors when they take over from Beach Beat in Dicky Beach on the Sunshine Coast, rebranding to become Dicky Beach Surf.
Plans for the new surf shop in the Caloundra region include a facelift and increasing the number of stocked surfboards from 50 to 300. A significant increase in surf accessories is also on the cards. The independently owned company already has four existing stores in Alexandra Headland, Coolum, Coolangatta and Torquay making them ideal for customers in Queensland, Northern New South Wales and Victoria.
Customers who live further away can browse the huge selection of surf boards, stand up paddle boards, fins, grips, leashes and other accessories through their online surf store, surfshopsaustralia.com.au. Mainstream brands like Quiksilver, Billabong, O'Neill and Hurley sit alongside board brands like Takayama, DHD, JS, Al Merrick, Lost, Firewire and McTavish. The online surf shop also offers advice to beginners about equipment and surf etiquette.
And if you don't know what to buy the surfer who has everything for Christmas you can buy gift vouchers at any of the stores and also online.
'We're stoked to be expanding Surf Shops Australia. The Alexandra, Coolum, Coolangatta and Torquay shops are thriving and we expect the new surf store to do just as well." said owner Neil Raaschou "Together with our new online surf store we continue to offer the largest range of surfboards in Australia and we intend to further build our success in the surf retail industry."
Surf Shops Australia stores are at the following locations: Alexandra Headland (QLD), Coolum (QLD),
Coolangatta (QLD), Torquay (VIC), Dicky Beach (QLD)
# # #