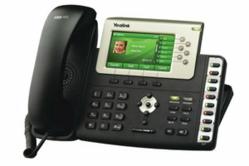 Our Yealink VoIP phone solutions provide an affordable, straightforward and painless transition to VoIP for businesses of any size
Bay Shore, NY (PRWEB) December 08, 2011
VoIP Phones, Business Phone Systems, Hosted PBX, business VoIP service, conferencing systems, and general telephony support services provider TelcoDepot.com has launched a new collection of Yealink business VoIP phone solutions on its online phone system store. TelcoDepot.com now offers a number of Yealink entry level and advanced VoIP phones supporting up to 6 SIP Accounts, PoE, Gigabit Ethernet, color LCD, executive VoIP Video, expansion modules, USB phone, USB wireless phone and wireless headset adapter among other features.
Yealink is an award-winning brand that stands out when it comes to the overall quality of their phone system products and business calling features. TelcoDepot.com now stocks entry-level and advanced business VoIP phones from Yealink for Hosted PBX or IP PBX VoIP applications.
TelcoDepot.com Yealink VoIP phone solutions for businesses include the Yealink T20P IP Phones (for Hosted Service or IP PBX, with 2 SIP accounts and PoE support), Yealink T20 Entry Level IP Phones, Yealink SIP-T22P Professional VoIP phones, Yealink SIP-T26P advanced IP phones, Yealink SIP-T28P executive IP phones, Yealink SIP-T32G Gigabit Color IP phones, Yealink VP-2009 VoIP Video Phones, Yealink EXP38 IP 38-button module, Yealink EXP39 IP 20-button module with LCD, Yealink USB P4K phones (works with PC for VoIP, IP PBX or Skype), power supply units, cabling, and other accessories.
Discounts and free shipping are available on some systems; please inquire from TelcoDepot.com Customer Support.
"At TelcoDepot.com, we provide our clients with dynamic VoIP phone systems and VoIP solutions that are optimized for them and grow with them while remaining relevant to their operations over time. Our Yealink VoIP phone solutions provide an affordable, straightforward and painless transition to VoIP for businesses of any size," says Yaron Ram, a TelcoDepot.com principal.
To learn more about the TelcoDepot.com Yealink VoIP Phones offer, including available systems, discounts, shipping, support options and pricing, visit http://www.telcodepot.com/voip-phones/yealink-ip-phones. For additional inquiries, call TelcoDepot.com support lines on 1-800-390-1200 or send an email to info(at)telcodepot(dot)com.
About Telco Depot
Telco Depot is a leading supplier of quality business telephone systems, business VoIP service, VoIP phones, phone headset equipment, video surveillance systems, voice & data cabling solutions, conference phone solutions and Microsoft Response Point Systems. The company's top priority is to help its clients make informed decisions based on their specific small business phone system needs by providing experience and expertise and guiding them in selecting the best phone systems for their businesses. Telco Depot ensures that their phone systems are fully scalable, affordable priced, and provide the highest value for their clients.
# # #