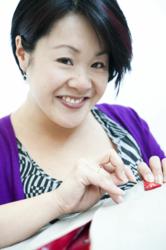 For those who simply can't wait: here is an exciting taster of some of the projects from my upcoming book: A Bag for All Reasons.
Have fun!
(PRWEB UK) 15 December 2011
World renowned bag making expert and on-line personality, Lisa Lam is publishing her first eBook this January after the success of her best seller The Bag Making Bible, which sold over 60,000 copies. The eBook will give exclusive early access to three amazing bag patterns from A Bag for all Reasons, due to publish in May 2012. The eReader will be able to choose from a range of formats to suit and will include gorgeous Fixed Layout Format for the Apple iPad. The eBook will contain essential techniques and full-sized templates that can be printed straight away to create The Compact Groceries Tote, The Fashionista Baby Bag and the 3-in-1 Convertible Backpack. The book will also feature all the sewing techniques and instructions you need to know to make the projects, from making adjustable straps to adding zips and magnetic snaps. The book will be available for download in January 2012 from http://www.RUCraft.co.uk along with eBook giants Amazon.com and Amazon.co.uk.
###