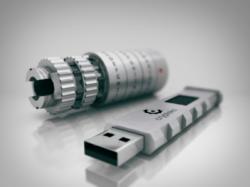 A perfect stocking stuffer for the secretive and security - obsessed – Uncrate.com.
Bloomfield Hills, MI (PRWEB) December 08, 2011
International gadget and tech websites are buzzing this Christmas season with the tremendous success of the Crypteks USB™ on the popular crowd-sourcing platform Kickstarter.com. Having reached nearly 750% of the initial funding goal in just two short weeks; the Crypteks USB™ by Crypteks Inc. has been featured on almost every major international tech blog and is being labeled as "a perfect stocking stuffer for the secretive and security-obsessed" – Uncrate.com. Claimed to be the world's first lockable and encrypted USB device; the Crypteks USB™ is an immensely popular gadget, having received over $90,000 USD in pre-orders in just 14 days, and has proven yet again the effectiveness crowd-funding platforms have on early tech start-ups.
Company officials have confirmed the rumors of a special edition 'Black' Crypteks USB™ to be launched on their Kickstarter page "any day now! We're really excited; many people have requested a black Crypteks USB™, we just had to make one" F. Komaya – Lead Project Developer Crypteks Inc.
Slated for a Christmas delivery; the Crypteks USB™ features a unique locking mechanism, inspired by author Dan Brown's "The Da Vinci Code", a 256-bit AES data encryption and is being heralded by the international tech community as an extremely secure and competitive solution to secure digital storage. Amid growing concerns over personal data security and the ever-present danger of corporate espionage, Crypteks USB™ has seen coverage by the likes of blog giants Gizmodo and WIRED; gaining international exposure in the busiest consumer shopping season of the year. As noted by celebrity tech "geek" Chris Pirillo; "this is probably one of the most secure USB devices; as far as flash drives are concerned…" on his weekly YouTube Live broadcast.
The "Crypteks: Encrypted, Combo-Locked USB stick For the Seriously Paranoid" – WIRED.com, can be pre-ordered this holiday season exclusively on Kickstarter.com with shipping planned for late December.
Links:
Wired Article: http://www.wired.com/gadgetlab/2011/11/crypteks-encrypted-combo-locked-usb-stick-for-the-seriously-paranoid/ Uncrate Post: http://uncrate.com/stuff/crypteks-usb-drive/ Chris Pirillo video: http://www.youtube.com/watch?v=xhP0NO-qzxg&feature=youtube_gdata
Kickstarter: http://www.kickstarter.com/projects/crypteks/crypteks-usbtm-encrypted-and-lockable-usb-solution
###