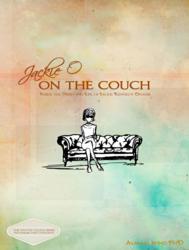 Some are calling it the most intimate portrait of Jackie Kennedy Onassis ever published.
Cottage Grove, OR (PRWEB) December 10, 2011
Jackie O: On the Couch: Inside the Mind and Life of Jackie Kennedy Onassis has been named Best Book in the category of Historical Fiction by the Pinnacle Book Achievement Awards.
When Jackie O: On the Couch was released by independent publisher Bancroft Press in August 2011, it was missed by much of the media on account of the parallel release of Caroline Kennedy and Michael Beschloss's Jacqueline Kennedy: Historic Conversations on Life with John F. Kennedy.
But the Pinnacle Book Achievement Awards noticed.
Organized by the North American Bookdealers Exchange, the Pinnacle Book Achievement Awards exists to recognize "the finest books published by our members." Faced with many titles in the category of historical fiction, the NABE did not hesitate to select Jackie O: On the Couch.
Jackie O: On the Couch, written by psychoanalyst Dr. Alma H. Bond, is, according to Bancroft Press publisher Bruce Bortz, "the story of Jackie Kennedy Onassis's life the way she would have told it." A first-person biography, Jackie O delves into every element of the former first lady's life, ideally revealing her as a fully fleshed-out, three-dimension person. Some are calling it the most intimate portrait ever published.
"There have been dozens of books about Jacqueline Kennedy Onassis," says Feather Schwartz Foster, an independent historian-lecturer and author of the book The First Ladies. "Jackie O: On the Couch is one of those rare delicacies that walks the fine line between fiction--written in the first person--and fact--seriously researched. It is a hard book to put down."
Fans of history, historical fiction, and Jacqueline Kennedy Onassis have noticed. According to Bortz, Jackie O: On the Couch is the bestselling historical fiction title in the nearly 20-year history of Bancroft Press.
In light of the awards recognition, Amazon recommendations, praise, and high sales--sales reminiscent of the 1998 Kennedy-centric Bancroft Press release Live by the Sword: The Secret War Against Castro and the Death of JFK, which was named a National Book Club and History Book Club selection en route to an option from television network Showtime--Bortz has ordered an early second printing.
"For a book we believe in as much as this one," says Bortz, "it's absolutely worth it."
Jackie O: On the Couch is available at Amazon.com, Barnes & Noble, and wherever print books and eBooks are sold.
Baltimore-based Bancroft Press is a leading small publisher working with some of the very best independent fiction and nonfiction.
###