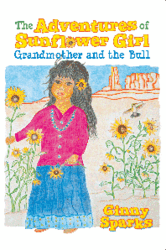 (The book) is based on the author's experiences growing up on the Navajo Reservation in the 1950s and '60s.
SAINT GEORGE, Utah (PRWEB) December 13, 2011
Sunflower Girl, named after the sunflowers blooming in the desert on the day she was born, knows she will have a good time when visiting her grandmother, who lives nearby. In this new children's book, Shi Masani (her grandmother) tells Sunflower Girl stories, and the two explore the plants and animals on the Navajo Reservation. One day they have an adventure. While walking to visit relatives, a bull charges them and they must climb a tree to escape. Luckily, Shi Masani has a special gift to help them - she can talk to animals.
The Adventures of Sunflower Girl: Grandmother and the Bull is based on an actual experience the author had, with her grandmother, while growing up on the reservation. In this book she lovingly describes the hogan where Shi Masani lives - a small round house made of juniper logs and covered in red dirt. Like other people on the reservation, Shi Masani doesn't have running water or electricity. Children of all ages can relate to this story about sharing traditions and spending time with grandparents. The book's charming illustrations bring the reservation to life.
Author and illustrator, Ginny Sparks, is a full-blood Navajo woman. She was born on the Navajo Reservation in Northern Arizona and didn't speak English until she was 7. Sparks, a registered nurse, is working on her next book in the series, The Adventures of Sunflower Girl: Kittens in a Tree.
The Adventures of Sunflower Girl: Grandmother and the Bull
Ginny Sparks
Dog Ear Publishing
ISBN: 978-1-4575-0716-8 30 Pages $24.95US
Available at Ingram, Amazon.com, Barnes & Noble and other fine bookstores.
###