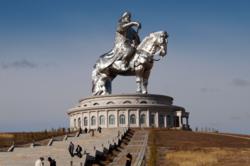 Monvest Aims to be First Mongolian Company
to List on Frankfurt Stock Exchange
Frankfurt, Germany (PRWEB) December 08, 2011
Monvest, Inc., an entertainment, leisure and travel (ETL) company that operates the National Lottery of Mongolia, is in line to become the first Mongolian enterprise to do a primary listing on the Deutsche Börse's Frankfurt Stock Exchange (FWB). The listing initiative was kicked off with the appointment of a top rank listings team led by Listing Partner Salans, a leading German law firm whose lawyers have handled almost half of all FWB China IPOs to date.
Monvest plans to list its shares on the First Quotation Board (FQB) of the Open Market of the FWB in January 2012. The FQB listing is to be followed by an upgrade to the Entry Standard of the FWB within several months. The Monvest FWB listing dovetails with the Company's ongoing plan to list on the US OTC market in 2012.
"Frankfurt is an important step in the capital markets strategy of Monvest Group," says Nixon Yap, a renowned Malaysian entrepreneur, the Founder and Chairman of Monvest. "Our aim is to be the first Mongolian FWB listing and to provide European investors with an opportunity to take part in the rapid growth of this booming emerging market."
Monvest Group has an exclusive strategic partnership with BizINVIN LLC, a local company that holds the exclusive license to own and operate lotteries in Mongolia. The National Lottery commenced operations in 2011, and Monvest is in the process of completing the roll-out of 150 lottery distribution outlets in the nation's capital of Ulan Bator. Two lottery games are already launched by Monvest, a 6D Jackpot and a 6/42 Lotto.
Listing Team Excellence
Monvest has appointed Salans as Listing Partner. Salans has had a presence in China since the 1990s, is one of the first international law practices licensed in Shanghai, and one of the city's largest foreign law firms. Salans has solid relationships with both the FWB and German Financial Supervisory Authority (BaFin) and is recognized as a "Listing Partner" and "China Expert" by Deutsche Börse, the world's third largest exchange.
Of all Chinese enterprises to IPO on Frankfurt since 2007, nearly half have been handled by members of the Salans IPO team, including ZhongDe Waste Technology AG, Asian Bamboo AG, Euro Asia Premier Real Estate Co. Ltd., and Madison Property AG. Salans' Shanghai office, which has won trade awards for excellence, will coordinate the Mongolian project with the German offices of the firm.
"We are pleased to work with Monvest to achieve the first primary listing of a Mongolian enterprise in Frankfurt," states Dr. Benjamin Kroymann, the China IPO specialist for Salans at the Shanghai office. "This truly is a landmark for Mongolia and for the FWB. Deutsche Börse has made the effort to welcome Mongolian enterprises, and we feel that European investors are eager for the opportunity to invest in this market. Monvest will lead the way and should be the first of many from this region."
Mongolia was ranked for the first time as an emerging market in February 2011 when Citigroup analysts determined Mongolia to be one of "Global Growth Generators", countries with the most promising growth prospects for 2010-2050. With a rapid rise in resources, Mongolia's exports are up 50% from 2009, swelling cash reserves to US$1.8 billion. Production of coal, iron ore and crude oil should rise 10-fold over the next decade, and the 10 largest deposits are worth over US$1.3 trillion.
Frankfurt Capital Market
Frankfurter Wertpapierbörse (FWB), also known as the Frankfurt Stock Exchange, is one of the world's largest securities trading centers with a tradition that dates back over 400 years. With a share in turnover of more than 90%, it is the largest of Germany's seven stock exchanges. Deutsche Börse AG operates the Frankfurt Stock Exchange and ensures the smooth functioning of exchange trading.
FWB is the world's third largest trading exchange, ranked only behind the New York Stock Exchange (NYSE) and NASDAQ. Frankfurt Stock Exchange is home to public companies from over 80 different countries with companies from North America making up almost 40% of the total listings, including over 3,200 from the US alone. More and more companies from countries like the US, Canada, Australia, the UK, India, China choose FWB over their home country's stock exchange.
"Frankfurt is a logical step for Monvest to bring its story to the global investment community," added Yap. "We see FWB as a steppingstone into the European capital market, and, despite the recent economic ills, there is no denying that Europe boasts one of the world's largest pools of capital. European investors also have a historic global outlook that allows them to embrace countries like Mongolia."
Yap points out that the underlying prospects of Monvest are sound. Mongolia is primed for a lottery given its growth story in recent years. There are numerous lotteries operating across Asia, which has a tradition of private ownership of lotteries, many of which are listed in their home markets. These lottery operations provide a solid revenue stream for government and often provide high returns for investors.
About Monvest
Monvest, Inc. was incorporated in the US state of Nevada to operate and invest in entertainment, travel and leisure businesses. The initial focus of Monvest is to develop operations in Mongolia, where it owns and operates the only National Lottery. In Mongolia, Monvest Group companies include wholly-owned Modern Capital Vest LLC, a lottery management company, and majority-owned BizINVIN LLC, holder of the National Lottery license.
For more information please contact:
David Lake, GCC Capital Markets
Tel.: +852-2813-7767
Email: davidlake(at)finance-media(dot)com
http://www.monvest.us
Monvest Inc Press Release - Dec 09 2011
###