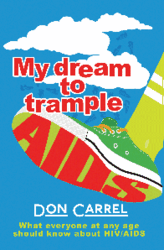 Thirty years after being infected with HIV, (the author) is alive and crusading for the prevention of HIV/AIDS.
MISSION, Kan. (PRWEB) December 21, 2011
The author has beaten incredible odds: Thirty years after being infected with HIV, he is alive and crusading for the prevention of HIV/AIDS, he writes. For instance, "about 2 percent or less of those infected with HIV in 1981 are still living," he notes in this new book. Although he has had full-blown AIDS since 1995, Don Carrel works tirelessly to teach young people about HIV. His mission began at a low point of his life. While in the hospital with Pneumocystis carinii pneumonia – the most common cause of death for someone with AIDS, he notes, – Don had a dream in which he was informed he would NOT die but would survive to share his story with others in an effort to prevent HIV. That dream changed his life.
In My Dream to Trample AIDS, Carrel aims to bring his message to even more people in an attempt to stomp out AIDS. Carrel's presentations, filled with personal stories, bring the horrors of the disease to life, providing a powerful incentive to remain healthy. He describes not only the physical aspects of the disease and how to prevent it but the psychological and financial impact the devastating diagnosis can bring. Examples include a brilliant friend who suffers AIDS-related dementia and a young man who learns he has AIDS a day before his 21st birthday. Carrel also shares a message of hope, from the puppy that saves his life to excerpts from letters written by people who have heard his life-changing presentations. His heartfelt story exemplifies the significance of life, family, friends and faith.
Author Don Carrel grew up in the Kansas City area. He earned a degree in business management at Kansas State University. He has two sons, Chris and Matt. He managed an insurance and investment agency, owned a gourmet gift shop, a cafe and a toy store. He has been with his partner, Chris, since 1997. Over a three-year period, his AIDS Walk team, Don's Teens Trample AIDS, raised more than $100,000 to support AIDS Walk Kansas City. Carrel's dedication earned him the Ribbon of Hope award presented by the AIDS Service Foundation of Greater Kansas City in 2005.
My Dream to Trample AIDS: What Everyone at Any Age Should Know about HIV/AIDS
Don Carrel
Dog Ear Publishing
Paperback ISBN: 978-1-4575-0672-7 276 pages $17.95 US
Hardcover ISBN: 978-1-4575-0853-0 276 pages $29.95 US
Available at Ingram, Amazon.com, Barnes & Noble and fine bookstores everywhere.
About Dog Ear Publishing, LLC
Dog Ear Publishing offers completely customized self-publishing services for independent authors. We provide cost-effective, fast, and highly profitable services to publish and distribute independently published books. Our book publishing and distribution services reach worldwide. Dog Ear authors retain all rights and complete creative control throughout the entire self-publishing process. Self-publishing services are available globally at http://www.dogearpublishing.net and from our offices in Indianapolis.
Dog Ear Publishing – self-publishing that actually makes sense.
###