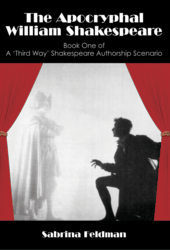 Better on the anti-Stratfordian side than James Shapiro's Contested Will is on the other side." - Bob Grumman, Stratfordian author of Shakespeare and the Rigidniks.
Pasadena, Calif. (PRWEB) December 16, 2011
The author of this intriguing new work sets out to solve three mysteries connected to William Shakespeare and his times. The first is why London writer Robert Greene attacked the Stratford actor from his deathbed as an incompetent and plagiaristic playwright. Greene's dislike of William Shakespeare was so strong that he wrote a letter to three of his fellow dramatists urging them not to share their future plays with the untrustworthy actors because an actor dubbed "Shake-scene" (widely identified by scholars as William Shakespeare) had been stealing lines from superior writers' plays to decorate his own bombastic works. A second mystery is why more than a dozen mediocre plays were attributed to William Shakespeare during his lifetime or soon afterwards, though these works are now excluded from the Shakespeare canon. Finally, this book asks which man was the mysterious "poet in purple robes," a hidden court poet greatly admired by members of the Elizabethan literati.
The Apocryphal William Shakespeare introduces new evidence to the Shakespeare authorship debate by focusing on the dozen or so "apocryphal" plays and "bad quartos" printed under Shakespeare's name or otherwise attributed to him. Sabrina Feldman suggests that the Stratford actor may have written these lesser works while serving as a "front man" for a hidden poet who wrote the canon. She introduces the case for Thomas Sackville, Baron of Buckhurst and Earl of Dorset (1536-1608), as the mysterious poet who wished to remain behind the scenes. The author's passion for her subject shows in her meticulous research, which includes passages from the works and short biographies of Shakespeare's contemporaries. She encourages readers to form their own opinions on the evidence before providing her dramatic conclusion.
Sabrina Feldman manages the Planetary Science Instrument Development Office at the NASA Jet Propulsion Laboratory. Born and raised in Riverside, Calif., she attended graduate school at the University of California at Berkeley, receiving a Ph.D. in physics in 1996. This is her first book.
The Apocryphal William Shakespeare: Book One of A 'Third Way' Shakespeare Authorship Scenario
Sabrina Feldman
Dog Ear Publishing
ISBN: 978-1-4575-0721-2
376 pages
$18.95 US
Available at Ingram, Amazon.com, Barnes & Noble and fine bookstores everywhere.
About Dog Ear Publishing, LLC
Dog Ear Publishing offers completely customized self-publishing services for independent authors. We provide cost-effective, fast, and highly profitable services to publish and distribute independently published books. Our book publishing and distribution services reach worldwide. Dog Ear authors retain all rights and complete creative control throughout the entire self-publishing process. Self-publishing services are available globally at http://www.dogearpublishing.net
and from our offices in Indianapolis.
Dog Ear Publishing – self-publishing that actually makes sense.
###