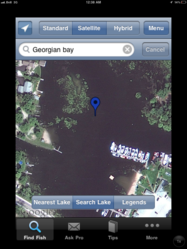 "I am thrilled that anglers throughout the world can now download UFINDFISH on both iPhone
and Android devices"
Burlington, Ontario, Canada (PRWEB) December 10, 2011
UFINDFISH lets you search Hot Spots in lakes near you or from afar utilizing GPS, or search any body of water using the state-of-the-art Google Maps interface. You can create and track your own fishing Hot Spots and keep them private in your "private vault", share them with your fishing buddies or share them with all of the anglers within the UFINDFISH community. You can also submit questions and get answers from real fishing pros, access informative fishing tips, and even view or share YouTube fishing videos that will be updated regularly.
Here are a few of the great features of UFINDFISH:
· View accurate fishing Hot Spots in lakes near you utilizing GPS or search the UFINDFISH Hotspot database for fishing Hotspots throughout the world.
· The GPS functionality allows anglers to see Hot Spots in "real-time", which pinpoints the exact location either on the water or on-shore.
· UFINDFISH utilizes state-of-the-art Google maps which allows anglers to view fishing Hotspots on a standard map or use the satellite mode to zoom in and view terrain, weed lines, points, rocky shores and other valuable fishing structure quickly and easily.
· Users can choose to Create Own Hotspot, Show Pro Hot Spots, Show My Hot Spots or Show Shared Hot Spots all with a click of a button.
· Anglers can submit questions to real fishing pros and get prompt and valuable feedback from them.
· The Tips section will allow fishermen to get fast, informative information on the best gear to use, how to tie fishing knots, how to clean a fish and literally hundreds of other interesting topics.
· Viewing and sharing of fishing videos on a dedicated YouTube channel that will be updated regularly is also available.
· Logging all your important fishing information – the size of your catch, what lure you used, where and how you caught your fish and the type of structure fished.
"I am thrilled that anglers throughout the world can now download UFINDFISH on both iPhone and Android devices. iPhone users have been downloading and enjoying UFINDFISH for months now and now Android users can catch more and bigger fish too" said Salim Sachedina, President of U FIND FISH Inc. "We're working extremely hard at making UFINDFISH for all Smartphone operating systems (OS) and you can expect more exciting announcements in the months to come."
Pricing and Availability:
UFINDFISH is available today on the Apple App Store and Android Marketplace for FREE. UFINDFISH will be available on mobile devices using Windows Phone7 and Blackberry World in the coming months. For more information please visit http://www.ufindfish.com.
About UFINDFISH:
UFINDFISH is creating the ultimate fishing community dedicated to offer anglers throughout the world an intuitive, easy way to quickly and effortlessly search and locate the best fishing locations when they want it, on-demand. We are dedicated to building the most robust and educational fishing application available and are partnering with fishing pros from around the world to significantly enrich the fishing experience of our UFINDFISH community.
Follow UFINDFISH on twitter: http://www.twitter.com/ufindfish
Links:
Share UFINDFISH: http://www.ufindfish.com/share/
The UFINDFISH Full Tutorial: http://youtu.be/eyfLf87BP5M
For more information please contact:
Salim Sachedina, President
Canadian Sportfishing Productions Inc.
1074 Cooke Boulevard, Unit #2
Burlington, ON, Canada
L&T 4A8
T. 905-681-3610 Ext 208 M.647-290-1173
Email: salim(at)canadian-sportfishing(dot)com
###