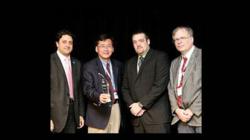 Hoboken, NJ (PRWEB) December 08, 2011
Paper-thin cell phones, e-readers, and batteries are just over the horizon for consumers, thanks to a revolutionary, disruptive technology known as printed electronics. A combination of novel materials and cutting edge fabrication processes, printed electronics are revolutionizing the look, feel and use of computerized devices and are emerging as an estimated $300 billion market.
Along with partners in the Army and other researchers at Stevens Institute of Technology, Dr. Woo Lee – the George Meade Bond Professor in the Department of Chemical Engineering and Materials Science in the Schaefer School of Engineering and Science at Stevens – is advancing printed electronics through the recent demonstration of a method to inkjet print electrical energy storage devices using graphene. Made of carbon sheets one atom thick, graphene has quickly become a go-to material for the next-generation of nanoscale and microscale devices. Dr. Lee's team was recognized with the Academic R&D Award at Printed Electronics USA 2011 for combining the potential of graphene with precision inkjet printing technologies.
"The printed graphene research conducted by Dr. Lee and his collaborators is destined to fundamentally change how low-cost, electronic consumer goods are produced in the future," said Dr. Michael Bruno, Dean of the Schaefer School of Engineering and Science. "Their work also demonstrates the sort of promising outcomes we have grown to expect from the long-running research relationship between the US Army and Stevens faculty."
Although a common artifact of the home or office, inkjet printers have also emerged as a scientific tool for depositing materials both precisely and efficiently. For his research, Dr. Lee's "ink" is a suspension of graphene oxide in water, which, after printing, is thermally reduced to produce graphene. The resulting material has useful characteristics including electrical conductivity, high surface area for energy storage, good mechanical strength to withstand everyday use, and transparent appearance.
Using an inkjet printer that can form and meticulously place graphene oxide droplets with a volume of 10 picoliters (1 x 10e-11 liters), Dr. Lee can realize graphene electrodes for the printed electronics industry.
"Our process allows us to print graphene droplets at a resolution down to around 50 micrometers," reported Dr. Lee. "Such precision inkjet-printing techniques require minimal handling of nanomaterials, generate very little wasted material, and can easily scale up by adapting our methods to commercial printers."
This is not Dr. Lee's first application of the inkjet printer. He currently receives funding from the National Science Foundation to investigate inkjet printing of drug-eluting micropatterns onto the surface of orthopedic implants. These biocompatible patterns of nanoparticles fight bacterial infection after orthopedic surgeries, a major cause for implant failure, and promote bone formation around new implants.
The research team includes: Dr. Lee, Stevens graduate students Linh Le, De Kong, and Yue Li; Dr. Matthew Ervin of the US Army Research Laboratory; and Dr. Brian Fuchs and James Zunino of US Army ARDEC. The collaborators received the Academic R&D Award at the Printed Electronics Awards dinner on Wednesday, November 30. Additionally, the group has submitted a joint US patent application for their work.
For more information about nanoscale research at Stevens, visit Dr. Woo Lee's research site or the Nanotechnology Graduate Program.
Printed Electronics USA 2011 is the world's largest event covering companies, products, and R&D related to an emerging technology with an estimated $300 billion market. Held in Santa Clara, California, and attended by representatives from industry, government, and academia in thirty countries, the event includes a tradeshow, seminars, and venture summit.
About Stevens Institute of Technology
Founded in 1870, Stevens Institute of Technology, The Innovation University™, lives at the intersection of industry, academics and research. The University's students, faculty and partners leverage their collective real-world experience and culture of innovation, research and entrepreneurship to confront global challenges in engineering, science, systems and technology management.
Based in Hoboken, N.J. and with a location in Washington, D.C., Stevens offers baccalaureate, master's, certificates and doctoral degrees in engineering, the sciences and management, in addition to baccalaureate degrees in business and liberal arts. Stevens has been recognized by both the US Department of Defense and the Department of Homeland Security as a National Center of Excellence in the areas of systems engineering and port security research. The University has a total enrollment of more than 2,350 undergraduate and 3,600 graduate students with almost 450 faculty. Stevens' graduate programs have attracted international participation from China, India, Southeast Asia, Europe and Latin America as well as strategic partnerships with industry leaders, governments and other universities around the world. Additional information may be obtained at http://www.stevens.edu and http://www.stevens.edu/news.
###