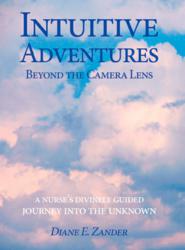 I've trusted the still, small voice of intuition my entire life. And the only time I've made mistakes is when I didn't listen.
Oprah Winfrey
Kona, Hawaii (PRWEB) December 15, 2011
"Intuitive Adventures Beyond the Camera Lens" chronicles the inspiring life of Diane E. Zander and presents her photographs of mysterious light phenomena, including the remarkable "Cross of Light" with its transformative and healing energy.
Sharing her quest for spiritual fulfillment through poignant, worldwide adventures and the photographic capture of the incredible PEP (Photographic Energy Phenomena), every chapter invites the reader to explore more of Diane's heartfelt, intuitive life journey.
From encounters with dolphins and whales, to spine-tingling experiences with pit vipers in the depths of the Peruvian jungle, Diane's use of her sixth sense and intuitive awareness of God's guidance both inspires and comforts.
Offering tools for the reader to experience the same tangible light, peace and contentment described throughout the book, Diane clearly reveals through personal life lessons how we are never alone.
Read more about Intuitive Adventures beyond the Camera Lens, go to http://www.heartmoonphotography.com.
###