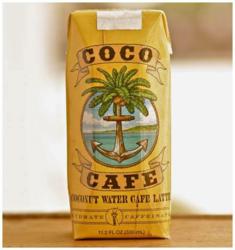 Santa Monica, Ca (PRWEB) December 09, 2011
Just when you thought the coconut water trend couldn't get any bigger, coconut water beverages swept the 2011 Bevnet Awards on Tuesday night. Most notably, Coco Café which launched in September 2011 took home top honors for Best New Beverage.
Aside from increased energy and hydration, there are numerous health benefits to coconut water which have been enjoyed by indigenous cultures for thousands of years; many of which became known to the western world during WW II when it was used as a substitute for plasma during blood transfusions! Coco Café Co-Founder Elan Eifer used coconut water regularly with his morning coffee when his roommate Brian McCaslin, a long time entrepreneur suggested they market the product.
Coco Cafe is now available at over 200 stores including Whole Foods Markets and online.For the first time ever health conscious coffee drinkers everywhere can simultaneously enjoy the hydrating benefits of pure coconut water, and caffeination from organic fair trade espresso. According to McCaslin, "We are thrilled at the overwhelming response to Coco Café so far from both within the industry and the general public." VEB Venture Emerging Brands @ Coca Cola selected Coco Café out of nearly 100 applicants and 6 finalists.
For Media Inquiries Please Contact:
Elissa Buchter
Bridge & Tunnel Communications
Elissa(at)bridgeandtunnelcomm(dot)com
For More Information Visit http://www.DrinkCocoCafe.com
###