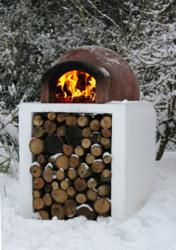 Purchase an oven before Christmas, and revieve a FREE accessory pack worth as much as £89.99!
(PRWEB) December 09, 2011
The ultimate gift for a foodie fanatic this Christmas, a wood fired oven is the hottest cooking trend to cross the continent and reach the shores of the UK. The Stone Bake Oven Company, who design and hand cast a range of wood burning ovens in England, are giving all the opportunity to experience authentic wood fired dining- with a difference.
The pleasures of owning a wood fired oven used to be restricted to the rich and famous, but not anymore. The Stone Bake Oven Company have combined cutting edge design, high quality materials and affordability, to produce a hard wearing, award winning, compact wood fired oven that doesn't break the bank.
The Stone Bake Oven Company's best seller, the Primo Oven, makes the perfect Christmas gift to share with the whole family. The outdoor wood burning oven combines authentic Italian cooking theory, with contemporary design, and at £599 it's a steal! Better yet, purchase an oven before Christmas, and revieve a FREE accessory pack worth as much as £89.99!
After spotting wood fired ovens in top restaurants across the country, and the globe, many homeowners are looking to re-create this exclusive dining trend at home.
A greener alternative to conventional cooking, a wood burning oven has the ability to cook virtually any dish from authentic Neapolitan pizza, to artisan breads, speciality roasts and more - even better, it does it in a third less cooking time.
For an opportunity to re-invent the kitchen, the Stone Bake Oven Company have a range of ovens to suit any requirements from the affordable, compact Primo Oven, the sizeable Mezzo Oven and the grand Rocca Oven, not to mention the range of commercial wood fired ovens, as seen in restaurants over the country.
So whether you're spoiling your spouse, or being the host with the most, invest in a Stone Bake Oven this festive season and use it throughout the year, for a gift that keeps on giving.
To find out more simply visit http://www.thestonebakeovencompany.co.uk
###