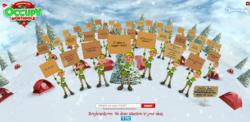 Miami, FL (PRWEB) December 09, 2011
Before investing time and effort running down to a local 'Occupy Protest', first check with the expert elf team located in a new location. 'Occupy North Pole' has been set up specially as a venting arena for the holidays and beyond.
Whether an unemployed professional, an aggravated student, a frustrated creative or simply just a scrooge, and want to join the '99% protests' around the world - or even just offload opinions - the creative team at Storyboards Online have brought the Occupy Movement to the cyber North Pole.
The Occupy Movement has been demanding the attention of the world media since September 2011, initially starting in Wall Street, NYC but now reaching across the globe with reportedly 2,868 occupy communities. The focus of these groups is primarily directed against economic and social inequality, but authorities have been evicting protestors and trying to put an end to this public outcry.
The Occupy Movement is spreading like wildfire to a new place, a place that cannot host news crews nor can be targeted by the authorities; the Occupy movement has taken over the cyber North Pole! In this exciting opportunity, created by Storyboards Online, for people to log on and participate in 24/7 protest amongst a team of CGI elves. Post occupy views freely and the chosen elf will bear the public's placards proudly. Participants can even then send a shot of this to a friend as well via email, Twitter or Facebook.
According to Storyboards Online founder and CEO Scott Ownbey, "I have been asked countless times whether I agree with the Occupy Movement, and although I can't easily answer that, I can offer my team's creative abilities to help facilitate – in a light hearted manner - the general public's voice. The question of whether the Occupy Movement has being heard is looming, but hopefully our additional fun resource will provide another dimension for everyone wanting to express themselves."
Ownbey serves as the founder and leader of the Storyboards Online brand. He hopes that people will take this widespread voicing of opinion further…only now, through 4 foot tall men in tights!
The Occupy North Pole website is now live and can be explored at http://www.occupynorthpole.net
About Storyboards Online:
Storyboards Online is a trading name for Interactive Art Services. Along side Animatic Media and Hype Comics, this creative team offers exceptional artwork for use in storyboards, animatics and branded comics created in HTML 5.
Their new animated comic book services are targeted towards agencies and brands that seek to use comic book formats online or for the iPad for marketing and promotion purposes.
For information: http://www.occupynorthpole.net or
Contact: scotto(at)storyboardsonline(dot)com
Phone: 954-462-4000
# # #