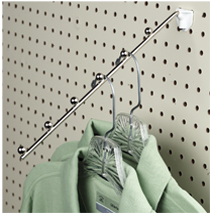 We listen to our customers and are pleased to introduce several new products based on their suggestions
Des Plaines, IL (PRWEB) December 09, 2011
Pegboard displays, which are ideal for cross merchandising, have just gotten more versatile with the addition of Specialty Store Services' new pegboard accessories. "Many customers have asked for more pegboard accessories," says Eric Weinstein, Co-Owner of Specialty Store Services. "We listen to our customers and are pleased to introduce several new products based on their suggestions."
The 6 Ball Waterfall for pegboard keeps hangers neat and the hook is designed so that the waterfall can be installed directly underneath shelving, maximizing the usable area on the pegboard panel. The 5 J-hook Waterfall features a 16" slanted arm constructed of ¾" square tubing, ideal for hanging clothing, purses and other accessories. The 12" long Faceout, also constructed of ¾" square tubing, has a ball on the end to keep merchandise in place. Shelf brackets for pegboard are now available in 12" and 14", ideal for supporting glass shelves and a great focal point for any pegboard display. The above pegboard accessories all have attractive, high quality chrome plating. These pegboard accessories help stretch merchandising budgets and inspire additional display ideas since they all work with slatwall as well as ¼" perforated paneling
Acrylic bins are very effective when use as entire wall displays and also as single impulse bins throughout a retail store. Now slatwall bins can do double duty by being incorporated into pegboard displays. The Pegboard Adapter is simply attached to an acrylic slatwall bin and instantly the slatwall bin is converted to a pegboard bin. The Pegboard Adapters are made of acrylic and can be mounted onto standard 1" pegboard. Acrylic slatwall bins can also be used on grid panels when using the new Grid Adapter for acrylic bins.
Displaying merchandise effectively can be a challenge sometimes but it needn't be a chore. Find a variety of helpful hints and articles pertaining to retail sales, merchandising and marketing on Specialty Store Services' blog.
About Specialty Store Services
Specialty Store Services, a second-generation family owned business, offers everything necessary to operate a thriving retail store, from logistical solutions and retail supplies to custom and stock fixtures. Over the last 25 years this service-driven company has cultivated relationships with global partners while developing the expertise and knowledge required to provide competitive prices, outstanding customer service and quality products.
###