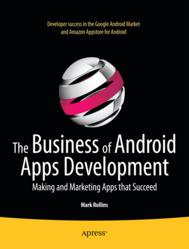 "Ideal for independent developers on a budget."-- Steve Anglin, Associate Editorial Director at Apress.
New York, NY (PRWEB) December 08, 2011
With the advent of Android 4 and Amazon's new Kindle Fire Android tablet, Android apps development is likely to be more lucrative and much more like Apple's app ecosystem. In the Android world, the Amazon Appstore, along with Google Android Market, will bring users and developers more selling options than ever before. In response, Apress—the leading Android technology books and media publisher—has created "The Business of Android Apps Development," which is modeled after the bestselling "The Business of iPhone Apps Development" book.
Written for today's Android apps developers or apps development shops, "The Business of Android Apps Development" shows how to incorporate marketing and business savvy into every aspect of the design and development process. This effective resource gives insider tips on how to best position an application for success in the various Android app stores and markets.
Readers will learn the ins and outs of cost-effective marketing, public relations, and sales techniques that have proven successful for professional Android app creators and indie shops. "Mark Rollins' new book is ideal for independent developers on a budget and offers insights on how to increase their return on investment," says Steve Anglin, Associate Editorial Director at Apress.
No prior business knowledge is required. For details, please visit: http://www.apress.com/9781430239420

ISBN13: 978-1-4302-3942-0
244 Pages
User Level: Intermediate
Publication Date: October 24, 2011
Available eBook Formats: EPUB, MOBI, PDF
Print book price: $29.99
eBook price: $20.99
About the Author
Mark Rollins is a freelance technical writer, focused on today's most interesting technologies, especially Android. He has a degree in English. For more, visit writermarkrollins.blogspot.com.
About Apress Media
Apress Media LLC is a technical and business publisher devoted to meeting the needs of IT professionals, software developers, programmers, and business leaders with more than 1,000 books in print and electronic formats. Apress provides high-quality, no-fluff content that helps serious technology professionals build a comprehensive pathway to career success. For more information about Apress' innovative approach to publishing, please visit http://www.apress.com.
###