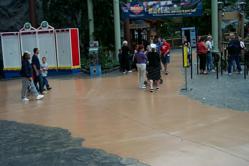 Chicago, IL (PRWEB) December 14, 2011
FloroCryl Methyl Methacrylate (MMA), part of the innovative Florock® industrial flooring line, now offers six systems for cold weather commercial flooring installation.
Cooler temperatures slow down the cure of typical concrete floor coatings and can even compromise the integrity of the final floor resurfacing product. The quicker cure of FloroCryl systems in normal installation temperatures provides an ideal standard cure in winter months, even accommodating jobs in freezing conditions.
For floors with light traffic, choose from FloroCryl SL, a solid colored, high gloss coating, or FloroCryl Chip, with its decorative terrazzo-like appeal and unlimited design options.
The additional durability of FloroCryl Quartz, which incorporates attractive colored quartz aggregate blends in a clear coating, as well as FloroCryl Shop, with its neutral colored quartz encapsulated in solid colored resin, make these ideal choices for areas subject to moderate traffic. Both offer a slip-resistant, orange peel finish.
Heavily trafficked floors do best with hard-wearing FloroCryl Build. Smooth or slip-resistant, this long-lasting, solid colored system provides even very busy commercial floors with heavy-duty protection. For parking structures, FloroCryl Deck uniquely lends decorative colored quartz interest and "orange-peel" slip-resistance to an industrial strength, waterproof topping.
All six FloroCryl MMA systems offer exceptional UV stability, excellent abrasion and chemical resistance, as well as tenacious adhesion to concrete. And ideally for this time of year, all cure well in unpredictably cold winter temperatures.
Local Florock professionals are available nationwide to assist installers and facility managers in choosing the best industrial floor coating for their unique applications. Call 1-800-FLOROCK (1-800-356-7625) to find a representative near you.
About Florock®, Manufactured by Crawford Laboratories, Inc. - Serving facilities nationwide, Crawford Laboratories, Inc. is a respected leader in the manufacture, research and development, and installation of solutions-oriented concrete floor coatings and toppings. Independently owned for nearly 60 years and located in Chicago, Illinois, Crawford Laboratories was founded on the principles of cutting-edge technology, innovation and impeccable integrity.
###