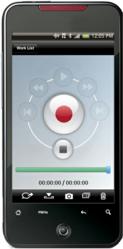 BigHand pretty much sold itself once we got it into the hands of lawyers, including younger lawyers who did not traditionally dictate…they have come up with some new and creative ways of leveraging the application.
Chicago, IL (PRWEB) December 09, 2011
BigHand, the leader in voice productivity and workflow digital dictation technology in the legal marketplace, today announced that the end-user adoption of its Smartphone applications (Android™, iPhone® and BlackBerry®) has more than doubled in 2011, with over 40% of lawyers on BigHand now using it on their Smartphone. Recent firms to incorporate the application on their Smartphones include Cranfill Sumner & Hartzog, LLP (Raleigh, NC), Waller Lansden Dortch & Davis, LLP (Nashville, TN) and McCarter & English, LLP (Newark, NJ).
Sam LaRoche, IT Director of Cranfill Sumner & Hartzog explains, "BigHand has been a tremendous success. The ability to deploy a dictation solution on our lawyers' Android, iPhone, and BlackBerry Smartphones has saved our firm tens of thousands of dollars. Just as important, the lawyers love being able to dictate right onto their phone from anywhere and at any time, often resulting in a finished product before they even return to the office. When it comes to dictation, being able to deploy BigHand on a Smartphone qualifies it as a 'game changer'."
Marcia Willis, IT Trainer for McCarter English, was directly involved in the deployment to lawyers and comments on the success and adoption rate of the BigHand Smartphone application, "Lawyers talk to each other and what initially started in Newark, is now hitting our Wilmington, Hartford and Boston offices."
Dana LaRieal Wilson, Project Manager in the IT Strategic Projects Department at Waller Lansden, discusses the new ways lawyers are using the BigHand application at the firm, ultimately increasing attorney mobile productivity, "BigHand pretty much sold itself once we got it into the hands of lawyers, including younger lawyers who did not traditionally dictate. We let them use it how they felt comfortable and, to the firm's benefit, they have come up with some new and creative ways of leveraging the application. They use it for submitting time, sending instructions to their assistants, working when they are in traffic and have to be hands-free, as well as recording long depositions that need transcribing at a later date. Instead of voicemail, they use BigHand. Word has spread and we continue to receive requests from users across the firm for the BigHand application."
Beth Thompson, US Director of Sales for BigHand, comments, "Initially, the convenience of being able to submit recordings from anywhere on a Smartphone without plugging into a PC, and no longer having to carry multiple devices, was a 'nice to have'. However, over the past year, BigHand has become a "must have" for many firms due to the tangible cost savings, efficiencies and productivity gains they have realized. We all speak faster than we type and we're even slower typing on a Smartphone! Even 'non-dictating' lawyers can attest to the fact that it is more efficient to verbalize tasks, documents, and instructions than thumb their way around a Smartphone. Lawyers can now quickly offload administrative tasks to office-based support staff, such as entering billable time, so that they can focus on servicing client needs and business development. With firms seeing a very real impact to their bottom line as a result of implementing BigHand, demand has soared this year, particularly for our Smartphone applications."
-ENDS-
About BigHand
The BigHand Group supports over 145,000 professionals globally, across 1,400 organizations, and is based out of Chicago, London, Sydney and Toronto. Further information is available at http://www.bighand.com
Contact:
Allison Stegich, Marketing Manager, BigHand, Inc., Allison.Stegich(at)bighand(dot)com
###