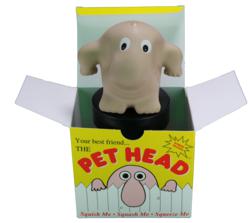 Whether you're at home, work or play, The Pet Head will always be there for you.
Boston, MA (PRWEB) December 13, 2011
The Pet Head is made 100% in the USA by gift and toy manufacturer, Bases Loaded, LLC. Charles Lindsey, company President and the inventor of The Pet Head, states that "Most stress relievers are boring. You squeeze them and within seconds they bounce back to their original shape. That is no fun.With The Pet Head, you can mold and sculpture him just like he was a hunk of clay, but without the mess. He'll stay in whatever shape you create. You can make hundreds of hilarious and distorted faces."
People can't believe how great they feel when they're shaping and molding The Pet Head. They always want to know, "What the heck is The Pet Head made of ?" The simple answer is that is a Trade Secret. Inventor Lindsey states, "We consider the entire manufacturing process to be a trade secret. Only a handful of people know exactly how The Pet Heads are made.
Who is buying The Pet Head? The simple answer is everyone. Lindsey explained the universal appeal for The Pet Head. He stated, "People of all ages and all walks of life experience Stress throughout their entire lives. Nobody escapes stress completely. Too much stress is extremely detrimental to your health. People that mold and shape The Pet Head will immediately feel the stress leaving their bodies. There is no other stress relief product in the marketplace that will reward you with such an enjoyable and soothing tactile sensation."
Inventor Lindsey added, "Besides The Pet Head being the #1 stress reliever on the planet, you'll also find that he will quickly become your best friend and favorite companion."
You can purchase The Pet Head online by visiting the company's website:
http://www.thepethead.com
The Pet Head can also be purchased at hundreds of stores nationwide. The current online price of The Pet Head is only $12.99 plus S&H.
Charles Lindsey is no novice when it comes to inventing fun and unique products. He has sold hundreds of thousands of his products nationwide and abroad. He has been inventing and marketing his products for over thirty years. His inventions usually start off at the kitchen table with a "hunk of clay" and a trip to the hardware store. Lindsey states, "Between making a clay model and finding an "assortment of stuff" at the hardware store, you can make a working prototype for almost any product."
For more information, please visit the company website:
http://www.thepethead.com
# # #