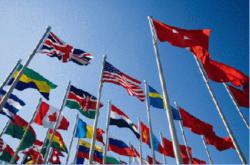 There is no better time to be a teacher looking to start an international teaching career.
Hyannis, MA (PRWEB) December 09, 2011
"Despite the hostile economic climate international school enrollment is up by 10% and TIE is eager to share this good news with teachers all over the globe, but especially here in the US where teaching jobs have been hit hard," says Brittany Betts, TIE's Web and Marketing Manager. "Our mission has been to match these growing schools with qualified teachers and let them know about the benefits and opportunities in their field," according to Betts.
Founded in 1986, The International Educator (TIE) is celebrating its 25th year as the leading publication and web site for the international school community and its record breaking numbers testify to the growth of the international school market.
The debut issue of TIE in 1986 featured only 24 schools advertising openings. This contrasts dramatically with the current December issue of the TIE newspaper which contains recruitment ads placed by 320 international schools from every corner of the globe. TIE's Director of School Advertising, Julie Thrasher, stated "School ads have increased from 8 to 15% almost every year since the newspapers inception."
TIE's website, tieonline.com, has experienced even stronger growth, "Since 2007 alone, online visitors are up 54% and daily visits have increased by over 90%," according to Betts. "Candidate registration on Tieonline has increased by 11% this year. It's incredibly rewarding knowing more teachers are finding out about these opportunities," said Betts.
Support for the efforts of this non-profit agency to expand the candidate base for international school recruitment, and to better link the leading 800 international schools in a communal network, comes from many quarters:
"Having the right combination of strategies to recruit teachers will result in direct benefits for students. I like TIE's robust database and ease of use. I can access quality candidates and it is a different group than I discover using more traditional avenues." said Deb Welch, director of the American School of Doha in Qatar.
"I have been an international educator for 20 years. I know I have not missed thoroughly reading a single issue of TIE over those years. Why? For me, it has been just about the only way to monitor the trends, small and large, as they evolve in our transient, diverse, rapidly changing international school world. My only improvement suggestion would be to increase the number of issues per year," said Bill Gerritz, Headmaster of IS Bangkok, one of the largest and leading international schools.
With over 900 jobs online today, and that number growing as recruitment season heats-up, TIE has witnessed the growth of the international education sector around the world. Julie Thrasher adds, "There is no better time to be a teacher looking to start an international teaching career."
The International Educator (TIE), located in Hyannis, MA, is a non-profit organization that for 25 years has been dedicated to developing links among teachers and the extensive American and international schools network worldwide. TIE publishes a quarterly newspaper featuring the latest in international school news and developments for K-12 educators around the world. TIE's website,tieonline.com, offers the widest selection of K-12 teaching and administrative jobs available anywhere in the world.
###