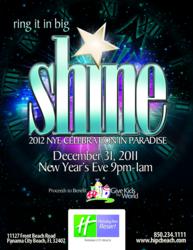 "It's a great party for a great cause," says Philip Colvin, Marketing Director at the Holiday Inn Resort. quotable
Panama City Beach, Florida (PRWEB) December 09, 2011
The Holiday Inn Resort Panama City Beach Florida Presents a New Year's Eve Party with a purpose on December 31st 2011. "It's a great party for a great cause," says Philip Colvin, Marketing Director at the Holiday Inn Resort.
Last year the Holiday Inn Resort partnered with the Make-A-Wish Foundation for "Twinkle", this year they will be working with the Give Kid's The World Foundation for the upcoming New Year's Eve Party, "Shine". The party will once again take place in the SeaWatch Entertainment Center, overlooking the Gulf of Mexico with 2 floors of entertainment for adults. This year you'll dance the night away with the resort's D.J. Jim Lawson – a favorite among guests, and this year they're bringing back Todd Allen Herendeen and the Follow That Dream Band – whom many of guests know and love from visiting over the summer!
While the adults flow through 2 floors of party upstairs, the kids will be on the 1st floor of the SeaWatch Entertainment Center at the Holiday Inn Resort in the Kids Activities Center with their own New Year's Eve Party! Kids will enjoy games, arts-and-crafts, pizza, movies, and more with a party just for them!
"Family is very important to us, and the experience that each person has during a family getaway is something that they'll remember for a lifetime. That's why we host this great event for such an amazing cause, Give Kids The World helps families whose children spend most of their time with doctors be able to experience a family vacation and make those wonderful memories." Says Colvin. There will be lots of opportunities throughout the evening to donate to the Give Kid's The World Foundation starting with a portion of the proceeds from your party package, along with opportunities to purchase from a special wine list at dinner, opportunity to have your photo taken and purchase a 5x7 print, donate unused drink tickets, and lots of other ways to help! "We're looking forward to the New Year's celebration – and helping more families have the ability to celebrate together." Says Colvin.
With plenty of party package options to choose from, you and your loved ones will have a great time without breaking the bank! A couple can enjoy a Gulf front room, a romantic dinner, the party – complete with party favors and a champagne toast at midnight, kids' party for 2 children, and breakfast for 2 (kids 12 & under eat free) the next day for only $199 plus tax!
The Holiday Inn Resort hopes that 2012 will be a year that truly shines – and the resort team is hoping that you'll help them to help Give Kid's The World! To see all the party packages visit the specials section at http://www.hipcbeach.com or call their friendly reservations team at 800.633.0266! Don't forget to ask how you can purchase a New Year's Eve Party Certificate as a Christmas present for someone you love!
###