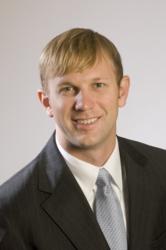 (PRWEB) December 10, 2011
Charleston, South Carolina attorneys David B. Yarborough Jr. and William E. Applegate IV are pleased to announce the expansion of their law firm, Yarborough Applegate, with the addition of two associate attorneys, Douglas E. Jennings and David B. Lail. Yarborough Applegate is a law firm focused on representing catastrophically injured people and families who have lost loved ones throughout the State of South Carolina.
Douglas Jennings grew up in the Pee Dee region of South Carolina in the city of Bennettsville. After graduating with honors and receiving a B.A. in Political Science from Clemson University, Douglas attended law school at the Charleston School of Law. Douglas previously worked as a law clerk for the First Circuit Solicitor's Office and with his father at the Douglas Jennings Law Firm in Bennettsville, South Carolina. Douglas maintains strong ties to his local community in Bennettsville where he currently represents individuals in numerous wrongful death and catastrophic injury cases.
David Lail is a litigator whose practice focuses primarily on representing plaintiffs in personal injury and business litigation. Prior to law school, David obtained a B.B.A. in Finance from the University of Kentucky and an M.B.A. from The Citadel. David has over six years of marketing, sales, and finance experience with a Fortune 500 company. David earned his Juris Doctor, cum laude, from the Charleston School of Law and was an Associate Articles Editor of the Charleston Law Review, a member of the Charleston School of Law Moot Court Board, and a Teaching Fellow in the Legal Research, Analysis, and Writing Department. During law school, David gained experience in cases ranging from personal injury to securities and investment fraud while working at several other Charleston law firms. Prior to joining Yarborough Applegate, David established a law office focused on providing legal strategies designed to protect and grow the business interests of companies, entrepreneurs and investors.
Yarborough Applegate is a law firm dedicated to helping its clients obtain compensation to make up for the harms and losses caused by serious injuries and wrongful deaths. Roughly 75% of the firm's cases come as referrals from other attorneys who associate Yarborough Applegate to be lead counsel. Yarborough Applegate provides potential clients and co-counsel with a number of ways to reach out to the firm, and information is readily available at http://www.yarboroughapplegate.com.
Contact our team at 843-972-0150 or by visiting http://www.yarboroughapplegate.com.
###