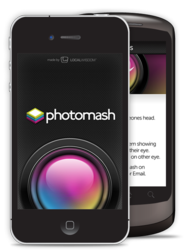 There are so many ways to use Photomash; we're excited to see what users can come up with.
Princeton Junction, NJ (PRWEB) December 09, 2011
Local Wisdom's latest app, Photomash, is now available for the Apple iPhone and Android.
Photomash gives users the ability to take pictures and turn them into fun, creative images. Users simply take a picture with their phone, erase portions of the image with their finger and replace those portions with new pictures. Each time an area is erased, images available within view of their phone's camera show in the erased portion, allowing the user to add a picture within a picture. Users can also participate in challenges and create their own photomashes.
Photomash is available for $0.99 in the Apple iTunes App Store and Android Marketplace.
"We wanted to produce an app that was fun, inventive and different than what's already out there," said Shawn Venkat, VP, Local Wisdom. "There are so many ways to use Photomash; we're excited to see what users can come up with."
For users that need some inspiration, the Photomash team created several challenges available on the Photomash website at photomashapp.com. Users' creations shared on Twitter will also appear on the Photomash website.
Photomash is the product of Local Wisdom's R&D team comprised of RJay Haluko, Creative Director, Tim Jaeger, Sr. Information Architect & Mobile Developer, and Programmers Chris Smith, Ryan Bailey and Patrick Pierson. Shawn Venkat, VP, oversees the R&D team.
To learn more about Photomash, visit photomashapp.com. Photomash fans are encouraged to like the app on Facebook at Facebook/Photomashapp and upload their creations to @Photomashapp on Twitter. To download Photomash, visit the Apple App store on iTunes or the Android Marketplace
About Local Wisdom
Founded in 1999, Local Wisdom is a digital agency headquarted in Princeton Junction, NJ specializing in design, development and curation of Internet and Intranet sites, web applications and mobile apps. Delivering custom, digital solutions that drive business growth, Local Wisdom's roster of clients include Johnson & Johnson, ELS Educational Services, Purdue Pharma L.P., Ortho-McNeil-Janssen, and other Fortune companies. To learn more about Local Wisdom, visit http://www.localwisdom.com.
###