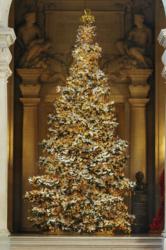 "I wish for a world for our children more just, more fair, and more kind than the one we know now."
President Barack Obama
San Francisco, CA (PRWEB) December 09, 2011
San Francisco Mayor Edwin Lee and First Lady Anita Lee join the Rainbow World Fund (RWF), the only international humanitarian aid organization that is based in the lesbian, gay, bisexual, transgender (LGBT) community, to invite the people of the world to submit wishes to decorate the "The World Tree of Hope" in San Francisco City Hall's Grand Rotunda. A unique and inspirational feature of San Francisco's holiday season since its inception in 2006, The World Tree of Hope has evolved into a global symbol of unity and hope for a better world.
The World Tree of Hope, a gift from members of San Francisco's LGBT community to the world, is created by RWF as a way to inspire hope and encourage people to think about what they would like for the future of the world, and then take action. Press information, photographs of the 2011 and previous year's tree and notable wishes are available at http://www.rainbowfund.org/tree/press
The World Tree of Hope features over 6,000 white origami cranes and silver/gold origami stars, each containing written wishes for the future of the world from individuals across the nation and around the globe. Wishes are sent in via mail and through the Internet. The wishes are printed and folded into thousands of origami cranes and place on the tree by a team of origami enthusiasts and volunteers. The call for wishes has already been heard by thousands around the world, and the open invitation for wish submissions will continue throughout the holiday season and year round. Wish will be added to the tree throughout December. RWF welcomes your wishes at http://www.rainbowfund.org/tree.
Wishes from the President to school children, from San Francisco to Sri Lanka, make The World Tree of Hope a powerful expression of people coming together to create better a world. Notable wishes on the tree include President Barack Obama, Dame Jane Goodall, Secretary of State Hillary Clinton, Arianna Huffington, Congresswoman Nancy Pelosi, Mayor Ed Lee, Jennifer Siebel Newsom, Shirley Temple Black, Frances Moore Lappe, Danielle Steel, Joan Fontaine, Peter Coyote, Rita Moreno, Patty Duke, Sharon Gless, Courtney Cox, David Arquette, RuPaul, Phyllis Diller and Stanlee Gatti. See notable and children's wishes here: http://www.rainbowfund.org/tree/celebrity-wishes.html
"The World Tree of Hope is an exciting community project and an opportunity for San Francisco, the birthplace of the United Nations, to promote peace and humanitarianism around the world," said former San Francisco Mayor Gavin Newsom (2004 -2011). The first World Tree of Hope of was created at City Hall in 2006.
"The World Tree of Hope taps into two of our most powerful resources – the human mind and heart – to give individuals a way to join together to express our hopes and intentions for the future of our global community." says RWF Executive Director, Jeff Cotter.
A sampling of notable wish contributors:
"I wish for a world for our children more just, more fair, and more kind than the one we know now."
President Barack Obama
"I wish for a world where all people are treated with dignity, respect and equality – no matter who you are or who you love."
Hillary Clinton, U.S. Secretary of State
"My wish is for us all to stop waiting on others to right the wrongs of our time and instead turn to the leader in the mirror. It is only by tapping into our own leadership potential that we can remake the world."
Arianna Huffington, Author, Syndicated Columnist and Commentator
"I wish it will snow in the morning so nobody does not have to go to school for 2 weeks!"
Michael, 13, Long Island, New York
"I wish that my moms, and all same sex couples were afforded the basic human right of marriage and in turn given the legal rights needed so that she can become a citizen. I wish we did not have to struggle so much as a family, fighting together to remain a family. I wish that we could live, work and be just like every other family."
Marie, age 18, San Carlos, California
"I hope that our City can be successful in fulfilling the hopes of all of our diverse communities and exemplify a higher love of civic pride, strong neighborhoods and respect for each other"
Mayor Ed Lee, San Francisco
A collaboration of the LGBT and Japanese American communities, the project includes the participation of local elementary, middle, and high school students in San Francisco. It is inspired by the story of Sadako Sasaki, the child whose journey and death several years after the bomb was dropped in Hiroshima, transformed the origami crane into a symbol of world peace. Members of the volunteer team that fold the wishes into cranes include survivors of the 1945 atomic bomb.
The World Tree of Hope will be available for public view in San Francisco City Hall from December 1, 2011 to January 2, 2012. RWF and the City of San Francisco would like to acknowledge the Delancey Street Foundation for generously donating the 20ft White Fur tree this year.
About Rainbow World Fund
Founded in 2000, RWF (http://www.rainbowfund.org) is an international humanitarian charity based in the LGBT and friends community. RWF's mission is to promote LGBT philanthropy in the area of world humanitarian relief. RWF works to help people who suffer from hunger, poverty, disease, oppression, and war by raising awareness and funds to support relief efforts and sustainable development projects around the world.
RWF currently supports projects focusing on global HIV/AIDS, water development, landmine eradication, hunger, education, orphans, and disaster relief worldwide. RWF is the first and only LBGT based humanitarian aid organization. RWF also works to raise awareness of the charitable contributions of the LGBT community, and to establish connections with non-LGBT communities. RWF programs increase LGBT visibility, serving as a platform for LGBT compassion and concern.
RWF's philosophy is that we are all "One Human Family" and that we are living in a time that tells us that our survival on this planet depends on us all giving more to each other. We bring people together who believe that together we can heal the world. We believe that LGBT people like all people have a unique role in world healing. RWF is part of that healing. We are working to change the separation consciousness that is underlying the disparity in the world – how people feel divided in the world today – by racism, sexism, homophobia, and so on. RWF is about remind people that we are really all part of one big global family and the we need to help each other.
Significance of the Origami Crane
In 1955, the origami crane became an international symbol of peace when the world learned the story of Sadako Sasaki. Ten years after the atomic bomb was dropped on Hiroshima, 12 year old Sadako contracted leukemia. While in the hospital, a friend told her about a Japanese legend that the folder of a thousand paper cranes would be granted one wish. Sadako started folding but grew weaker with time. Her wish to be healed grew into a wish for peace for all the world. Sadako passed away and was 356 cranes short of her goal. Her classmates folded the rest and all 1,000 were buried with her. On the wings of those cranes, Sadako would write messages. One deeply profound message read, "I will write peace on your wings and you will fly all over the world." Her hope, strength and determination have inspired millions to this day. A children's campaign honoring Sadako's hope, strength and determination led to the creation of the Children's Peace Monument in Hiroshima's Peace Park.
Submit A Wish
Wishes for The World Tree of Hope can be sent to Rainbow World Fund, 4111 - 18th St. #5, SF, CA 94114 or via the RWF website: http://www.rainbowfund.org/tree Wishes will be added to the tree throughout December. Wishes may also be recorded in the guest book at City Hall.
INFO: 415/ 608-5333 or http://www.rainbowfund.org/tree
PRESS INFO. & ASSETS: http://www.rainbowfund.org/tree/press
High Res PICS: http://www.rainbowfund.org/tree/press/toh.html
# # #