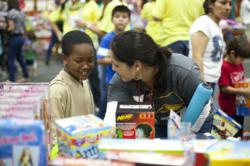 "This is a time where a lot of people are in need. Events like this I think help spur ideas and motivation to help communities like mine."
-San Diego City Council President Tony Young
San Diego, Calif. (PRWEB) December 12, 2011
Over 10,000 people are expected to attend the 15th Annual Toys for Joy event at Abraham Lincoln High School on Saturday, December 17.
In tough economic times, everyone needs hope, especially the estimated 14.8 percent of those in San Diego County who live in poverty. In 2010 alone, 72,401 more people fell into poverty, according to the Center for Policy Initiatives. Toys for Joy is just one way San Diegans are joining forces to bring hope to others.
Toys for Joy is more than just a toy to those families who wait hours in line to get a toy for their children. Not only will children receive a free toy but families will have the opportunity to receive free food, clothing, groceries and entertainment. During the holidays, a helping hand is even more appreciated by those who receive it. Many volunteers and sponsors work together to make this annual event an added blessing.
Toys for Joy began more than a decade ago in partnership with Victory Outreach Church in San Diego. At that time, the Rock Church did not exist and it was Miles Ahead Ministry that spearheaded the event.
McPherson recalled that the church and his ministry wanted to use the Christmas season to help others. They noticed that people would sit in church to hear the message and then afterwards go out to buy toys or a Christmas tree. So during the early days of Toy for Joys, organizers gave away toys and Christmas trees only.
Now, the event has grown to toys, food, clothing, and more. Last year alone, 2,000 volunteers helped to distribute 9,000 toys, 225,000 articles of clothing, and 10,000 bags of groceries. This year, Toys for Joy hopes to do the same. In addition to the 10,000 toys and 60,000 pounds of food that will be distributed to families in need, there will also be free food, clothing, and groceries, live entertainment including STOMP junior troupe, a children's fun zone, and a special venue for teens. This event is free and open to the community.
MORE:
WHAT: Toys for Joy is one of San Diego's largest and longest running community outreach events. Now in its 15th year, it was originated by Pastor Miles McPherson of the Rock Church. Last year, the Rock Church donated 706,313 volunteer hours internationally, with an estimated value of $11.2 million* with 228,765 hours of these hours given directly to the City of San Diego, saving the city over $4 million.
WHY: A united act of compassion designed to meet the basic physical and spiritual needs of community residents.
WHO: The Rock is partnering with local businesses, churches and community agencies. Approximately 2500 volunteers will be on hand to help unload the Toys for Joy trucks, distribute food, toys, and facilitate outreach programs.
The event is open to the community.
WHEN: Saturday, December 17, 2011
9 AM - 2PM
WHERE: Abraham Lincoln High School
4777 Imperial Avenue
San Diego, CA 92113
*(Media Entrance: ALHS Administration Building off Imperial Ave)
MEDIA OPPORTUNITIES:
Interview opportunity with Miles McPherson, Rock Church Senior Pastor and founder of Toys for Joy.
Visuals of thousands of local residents receiving toys, lunch, free groceries, etc.
In partnership with City of San Diego Special Events, San Diego Police Department, Lincoln High School and many more. Sponsors include: Macy's, San Diego Padres, Seaworld and 16 others. For more sponsor information, visit http://bit.ly/t3Z3VW.
ABOUT TOYS FOR JOY
Toys for Joy was founded by Pastor Miles McPherson of the Rock Church in 1996 to partner with local churches and community businesses and serve Southeastern San Diego. For the past 14 years, Toys for Joy has impacted thousands of lives through volunteers that provide toys, clothing, and food, in addition to health and community services. For more information, visit http://www.toys-for-joy.org.
Pictures are also available online: http://bit.ly/spG3Fs.
B-roll videos from Toys For Joy 2010:
http://bit.ly/uDeZ8d - California State Assemblyman Nathan Fletcher
http://bit.ly/tK0j4g -Pastor Miles
ABOUT THE ROCK
The Rock is San Diego's largest church and the 19th largest church in the nation according to Outreach Magazine's 2009 "100 Largest and Fastest-Growing Churches in America" survey. It was started in 2000 by Pastor Miles McPherson, a former NFL player. Over 12,500 people attend the Rock's five Sunday services.
*Source: KidsData.org
For more information go to http://www.therocksandiego.org
Follow us on Twitter (@therocksandiego) and Facebook (The Rock San Diego)
###