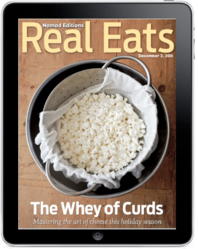 New York, NY (PRWEB) December 08, 2011
Nomad Editions, the leading creator of magazines for mobile devices, announced today that Barbara Fairchild, former editor-in-chief of Bon Appétit, will become the new editor of Real Eats, Nomad's food publication. Fairchild will succeed Sean Elder, the digital magazine's founding editor, as of January 1, 2012.
Fairchild spent 32 years at Bon Appétit, the last 10 as editor-in-chief. She brought many well-known writers into the magazine's pages, including some with major reputations outside the usual sphere of food writing, including Bill Bryson, Tama Janowitz, Paul Theroux and Pico Iyer.
Fairchild has been a columnist for Real Eats since February, 2011, shortly after she stepped down as Bon Appétit's editor when Condé Nast moved the magazine from Los Angeles, where Fairchild is based, to New York. Her column for Real Eats, "Appetite for Life," has showcased her interest in the intersection of food and travel.
"I've had a lot of fun doing the column and so enjoyed working with Sean this past year," Fairchild says. "Now I'm excited about—and up for—the challenge of a weekly. I like the stable of writers that Sean has developed, and there are a lot of food writers whom I've worked with in the past whom I'd love to call on. I also want to incorporate some of those really talented bloggers out there, too."
As for changes down the road, Fairchild says, "I'd like to increase the travel and restaurant coverage, add some more profiles, maybe new products and books, and also get a few more recipes in there. After all, I know a lot of people who know who to create great food!"
"Real Eats was one of the first titles we launched almost exactly a year ago when the whole Nomad concept was completely new and untried," says Mark Edmiston, CEO of Nomad Editions. "With Sean's deft hand at the helm we have proved that a weekly publication devoted to food is not only possible but welcomed by the readers. I am delighted that the very accomplished Barbara Fairchild has agreed to take over from Sean and I look forward to her leading the only weekly digital food publication in the world to new heights".
Real Eats made its debut under Elder's direction in December, 2010, as one of the first mobile titles launched by Nomad. From its inception, Real Eats has covered not only the most interesting trends in food, but also the stories of the people who grow and make our food, and how food makes its way from farm to table.
Elder says "I'm flattered that someone with Barbara's knowledge and experience wants to take the reins at Real Eats. I've enjoyed editing her column, 'Appetite for Life,' and I'm really looking forward to seeing what kind of vision, and variety, she brings to Real Eats as editor."
Nomad Editions currently publishes two other digital weeklies in addition to Real Eats: BodySmart, a guide to intelligent weight loss, and Uncorked, which covers the world of wine, focusing on finding the best values. All three titles are published weekly and are available through the iPad app store and the new Apple Newsstand.
Nomad Editions also creates custom digital publications for other publishers and for major marketers.
ABOUT NOMAD EDITIONS
Nomad Editions is a unique media marketplace that provides readers with digital publications specifically for mobile devices. High-quality editorial and rich multimedia capabilities are enhanced by new technology that creates a superior experience for readers.
Nomad Editions' three digital weekly magazines, Real Eats, BodySmart, and Uncorked are available through the iPad Newsstand.
Founded by Mark Edmiston, former Newsweek President and long time media investment banker, and media veterans Marjorie Martay and Jock Spivy —Nomad Editions uses a subscription-based business model where editors, writers and contributors are fairly compensated for their creativity.
###