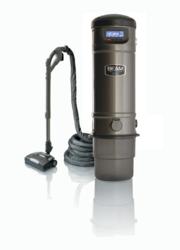 Builders and homeowners know their systems will deliver excellent performance every time.
Charlotte, N.C. (PRWEB) December 10, 2011
Home builders and building contractors have rated BEAM by Electrolux as the highest quality central vacuum systems on the market for the eighth year in a row and an increasing number of builders are installing them in new homes.
"Our consistent top-quality ratings reflect the outstanding experience builders and their buyers have had with their BEAM Central Vacuum Systems and the best-in-industry network of installing BEAM dealers," says Brian Campbell, product development manager. "Builders and homeowners know their systems will deliver excellent performance every time."
The ratings were compiled from a nationwide survey of builders, builder-developers and contractors who subscribe to Builder magazine. The survey sponsored by Hanley Wood, the publisher of Builder, was conducted from early August through September to determine respondents' familiarity, usage and opinions of brands in 81 product categories.
Respondents rated the quality of central vacuum brands on a scale of one to seven, with seven being "excellent." BEAM earned an average score of 5.65, up 0.14 point from a year ago and 0.10 percentage point higher than its nearest competitors.
The survey also found that more than one-fifth (21 percent) of builders surveyed have installed BEAM Central Vacuum Systems in new homes during the past two years, up from 16 percent in the 2010 survey.
Because BEAM Central Vacuum Systems were the first to be clinically proven to relieve allergies they became one of the first products to earn Green Approved certification by the National Association of Homebuilders (NAHB) Research Center.
"Improving the air quality inside the home is critically important for the growing number of builders who build green homes and the consumers who buy them," adds Campbell.
For more information about the National Green Building Standards, and BEAM Central Vacuum and HEPA Air Filtration Systems, or to locate a Beam Dealer, visit http://www.beam.com.
Electrolux Central Vacuum Systems is the world's leading producer and marketer of built-in central vacuums. The company's BEAM, Electrolux and Eureka Central Vacuum Systems are sold in 50 countries around the world. Electrolux Central Vacuum Systems is a division of Electrolux Home Care Products North America.
For more information and photos, visit http://www.beampresscenter.com.
###