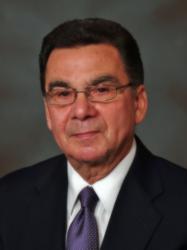 St. Louis, MI (PRWEB) December 13, 2011
Sheila Gilbert, president of the National Council of the Society of St. Vincent de Paul (SVdP), and Roger Playwin, executive director of the National Council, announced the following appointments:
Benjamin Vaissade, a retired retail executive in the San Francisco Bay area, has been named vice president of the National Council of the Society of St. Vincent de Paul. His duties include coordinating the efforts of the organization's eight regional vice presidents throughout the United States. Vaissade joined the Society in 1992 as stores operations manager for SVdP's district council of San Mateo, Calif. For the past six years, he has served as the regional vice president for the organization's western region, which is comprised of 10 states. A native of Eureka, Cal., Vaissade attended Stanford University's Graduate School of Business and is a graduate of the Sloan Executive Program.
Margarita Galindo, a retiree of the Sweetwater School District in Chula Vista, Calif., has been named vice president for Hispanic involvement for the National Council of the Society of St. Vincent de Paul. A member of SVdP since 2004, she is a founding member of the Society's conference (chapter) at Our Lady of Mt. Carmel Catholic Church, the organization's only Spanish-language conference in the Diocese of San Diego. She is also a member of SVdP's national ad hoc committee on multicultural/diversity issues and initiatives. Born and raised in Tijuana, Mexico, Galindo graduated from the Instituto Tecnologico de Tijuana with a degree in industrial relations. Before immigrating to the United States, she worked in human resources for the Mexico National Security Office. Galindo became a U.S. citizen in 1986.
Michael J. Nizankiewicz, PhD, CAE, has been named treasurer for the National Council of the Society of St. Vincent de Paul. He is currently serving as the interim CEO of the Vascular Disease Foundation in Denver, Colo. Nizankiewicz is a principal of Association Transition Management and an affiliated consultant with Transition Management Consulting. He also served as the executive director of the Washington Center for Psychoanalysis. Prior to that, he was executive vice president and CEO of the National Association of Mortgage Brokers. In addition, he was the president and CEO of the Lupus Foundation of America, spent 19 years in progressive senior management positions for the American Heart Association, and served seven years with the Muscular Dystrophy Association. Nizankiewicz has a bachelor of arts degree from Assumption College, a master of arts degree in voluntary agency management from Central Michigan University, and a doctorate in business management from LaSalle University.
Althea Graham, a customer service representative for AT&T in Detroit, has been named secretary for the National Council of the Society of St. Vincent de Paul. A member of the Society since 1994, she served as president of the SVdP conference (chapter) in her parish before being elected president of the organization's Detroit west district council for six years. In 1995 she was a key negotiator in establishing a partnership between the inner city parish of Immaculate Heart of Mary and Providence Hospital, a prominent suburban hospital, to found the St. Vincent de Paul Health Center, a free health clinic that provides quality health care to the uninsured. She served as director of community volunteers for the Center from 1995 until 2007, when the clinic was recognized with the J.C. Penney Golden Rule Award. She attended Schoolcraft College and Wayne State University, with a focus on labor studies and community outreach.
The largest social assistance organization in the world, the Society of St. Vincent de Paul (http://www.svdpusa.org) is a nonprofit Catholic lay organization of approximately 700,000 men and women who voluntarily join together to grow spiritually and offer person-to-person service to the needy and people living in poverty in 142 countries on five continents. With the U.S. headquarters in St. Louis, Mo., membership in the United States totals more than 172,000 in 4,600 conferences (chapters). Programs include home visits, housing assistance, disaster relief, job training and placement, food pantries, dining halls, clothing, transportation and utility costs, care for the elderly and medicine. Providing more than $595 million in tangible and in-kind services, SVdP serves more than 14 million people in need each year, performs more than 648,000 visits to people in their homes, and delivers more than 7 million service hours to those in need, regardless of race, religion or national origin.
###