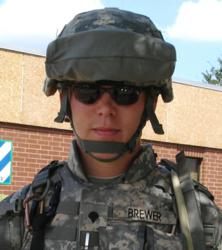 I couldn't be more honored than for SPC Michael Brewer to accept this ring as my thank you for his service to our country
Atlanta, GA (PRWEB) December 09, 2011
Union Diamond (http://www.UnionDiamond.com), a leading online diamond jeweler, announced today the name of the winner in the "My Perfect Union" $40,000 platinum and diamond engagement ring giveaway open to members of the military. The website (http://www.myperfectunion.uniondiamond.com) started accepting submissions on September 26th with the six finalists having been announced on November 29th.
SPC Michael Brewer of White Sands, New Mexico was notified on December 6th that he had been selected as the winner of the contest. "Thank you so much for this awesome opportunity," stated Brewer in an email. "I cannot believe that I could ever be so lucky."
"When I read Michael's story, I found it hard to get out of my head," said Scott Anderson, President and CEO of Union Diamond. "This man, this American soldier, while sustaining severe wounds to his face and hands, lead his entire convoy out of the danger zone after they had been ambushed by insurgents without a single casualty."
SPC Brewer submitted his own name for the contest because he wanted to be able to give his wife something that he says she deserved from the very beginning. "Since I got wounded during my second deployment, my wife has been my primary caregiver. She has always been there for me and has never left my side. I owe her my healthy recovery," he stated in his submission. The ring consists of a GIA certified D-color Diamond surrounded by a Natalie K designer diamond setting made of Precious Platinum.
"This soldier went above and beyond the call of duty during his time in Afghanistan," said Anderson. "I believe that Michael and Jill make 'The Perfect Union' and I couldn't be more honored than for SPC Michael Brewer to accept this ring as my thank you for his service to our country."
About Union Diamond
Selected as one of Forbes magazine's "Best of the Web," Union Diamond offers one of the largest and most diverse inventories of diamonds and jewelry available on the internet today, with over 60,000 individual finely cut certified diamonds in prices ranging from $300 to $3,000,000. Their award-winning online showroom is simple, clean, and easy to use, providing clear and concise information for every item selected. Union Diamond is headquartered in the prestigious Overlook III Tower in the Historic Vinings section of Atlanta, where they welcome customers to visit their one-of-a-kind showroom high atop the city. All diamonds are certified by the Gemological Institute of America, the European Gemological Laboratory, or the American Gem Society and include a 30-day return policy. For more information please call 800-319-9155 or visit http://www.UnionDiamond.com.
###