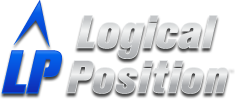 We're very excited to offer a new range of services and expertise to our clients, said Mike Weinhouse, founder/Co-CEO of LP
Beaverton, OR (PRWEB) December 13, 2011
Logical Position (LP), a full service digital marketing company announces The Portland Co. (TPC), a boutique website design firm based in Portland Ore., has joined LP, expanding the company's digital marketing services to include website design and development.
New and existing clients of both LP and TPC will benefit from this combination of LP's strength in search engine optimization, pay per click (PPC) management and competitive intelligence strategy with TPC's expertise in graphic design and website development. The full range of digital marketing services and expertise is now available to deliver superior marketing results and provide businesses with a one-stop shop to create an online presence and increase visibility quickly and effectively.
Spencer Hill, who owned and ran TPC for the past seven years has joined the LP team as Director of Creative Services. Hill brings his creative web marketing expertise, as well as a roster of clients, including Woodburn Company Stores, to the LP household.
"We're very excited to offer a new range of services and expertise to our clients," said Mike Weinhouse, founder/Co-CEO of LP. "Our clients can leverage both our deep knowledge in PPC, SEO and social media marketing, combined with the visual and design expertise from TPC. It's a win-win for everyone."
About Logical Position
Logical Position (LP) is a full-service digital marketing firm offering a full suite of tools and services to help businesses build and increase their online visibility. Founded in 2010, the firm experienced 400% revenue growth and 300% employee growth in 2011 despite recession challenges. The firm's 45 full-time employees offer search engine optimization, social media marketing, pay per click (PPC) marketing and website design to nearly 600 clients.
For more information visit http://www.logicalposition.com.
###