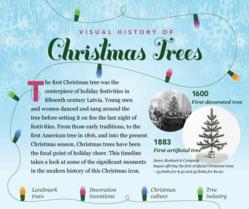 Through our infographic, we want to share our passion for Christmas trees and show the evolution of the tree tradition over the centuries.
Beaverton, OR (PRWEB) December 13, 2011
Christmas Tree Market ™ certainly knows a lot about Christmas traditions, and has recently put together a visual history of the Christmas tree infographic up on their website. The designers have gathered a slew of interesting facts that have popped up throughout the tradition's long history and compiled them in a fascinating piece of holiday trivia. Visitors can read all about the different advancements in real and artificial Christmas trees over the years and see how they have shaped Christmas as it is known today.
"We are proud to present this beautiful infographic that is both informative and entertaining. Through it, we want to share our passion for Christmas trees and show the evolution of the Christmas tree tradition over the centuries," says Topher Ball, spokesperson of Christmas Tree Market ™.
The Christmas Tree infographic reveals significant moments in the advancement of the Christmas tree, from real trees decorated simply in 15th century Latvia to contemporary innovative artificial Christmas trees. Showcasing interesting facts about landmark trees, decoration inventions, the Christmas culture, and the tree industry, the Infographic is a timeline of the tradition's humble beginnings to the grand festivities of today.
The Christmas tree and Christmas tree traditions have evolved throughout the years. Once decorated with only glass candleholders and red and gold balls, Christmas trees are now adorned with a variety of creative ornaments, from LED lights to glittery trimmings. Colorful Christmas trees and fiber-optic trees are now available alongside realistic artificial trees. From its invention and through time, artificial Christmas trees have gained increasing popularity as a Green alternative due to growing concern about environmental degradation.
The details of these, plus more fun facts and Christmas decorating ideas, can be viewed by customers on the Christmas Tree Market ™ website. Customers can get tips on topics such as "How to Child-Proof Your Christmas Tree" or "Christmas Decorating on a Budget."
"In a way, the Christmas Tree infographic is our homage to the beloved Christmas tree, which hosts many of our warmest memories of family get-togethers. By finding out how the Christmas tree we have in our own homes came to be, we can appreciate this centerpiece of Christmas festivities with more affection," Ball adds.
Ball encourages customers to view the infographic as they choose their artificial Christmas trees from Christmas Tree Market ™. The online store also has a great Christmas tree sales that meet the aesthetic and financial considerations of customers.
For more information, please visit http://www.christmastreemarket.com.
About Christmas Tree Market ™
Christmas Tree Market ™ is an online retailer of quality discount artificial Christmas trees, wreathes, and garlands. They are known for a wide variety of pre lit artificial Christmas trees and Christmas tree sales. All their Christmas trees can be purchased at http://www.christmastreemarket.com.
###