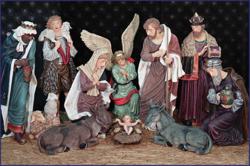 Christmas is one of the best times to spread God's love using any of our religious products as guides or accessories.
San Mateo, CA (PRWEB) December 19, 2011
To celebrate the reason for the season with the Catholic community, Discount Catholic Products ™ offers a variety of new engravable gifts and other Catholic products that share the meaning of Christmas. Customers can choose from a diverse collection of holiday items, from personalized religious items to classic Christmas gifts like greeting cards and Christmas CDs.
"We at Discount Catholic Products ™ want everyone to have a more meaningful Christmas with loved ones by offering various Catholic Christmas gifts, some of which can now be engraved for that special touch. This is our own little share to our customers' festivities this season of giving," says Kristen Padula, spokesperson of Discount Catholic Products ™.
The online Catholic store has a wide selection of high-quality religious products that are stylish and creative. Many Catholic gifts can be made more exceptional by having the recipient's name engraved on them. This personalized feature makes engravable gifts more endearing and popular for Christmas and other occasions.
Discount Catholic Products ™ offers engraving on its popular Catholic medals, such as the Blessed Virgin Perpetual Help Medal. Made of 14KT gold, this medal symbolizes Christmas with its image of the Blessed Virgin holding the infant Jesus.
Padula also invites everyone to visit the newly revamped rosary beads page for more Christmas gift ideas. Discount Catholic Products ™ offers a wide selection of over 100 rosaries, many of which can be customized by having names or special messages engraved onto the cross. The rosaries page has been consolidated into neat categories to help customers choose among the numerous designs available.
Besides the new engravable items, the store offers classic Christmas gifts like nativity sets. Another best-seller that delivers Christmas message is prayer cards. Many of the store's customers, Padula adds, purchase cards like the Hope Laminated Prayer Card to convey wishes of hope and peace to their loved ones.
"Our products were especially made for Christian devotion. As the season of love and of giving, Christmas is one of the best times to have a closer relationship with loved ones and with God using any of our religious products as guides or accessories," Padula emphasizes.
For more information, please visit http://www.discountcatholicproducts.com.
About Discount Catholic Products ™
As an online presence in the Catholic community since 2003, Discount Catholic Products ™ is committed to upholding its reputation for great selection and superior customer service. Our high quality products, such as our rosary necklaces, medals and cross necklaces, speak for themselves and make wonderful gifts to commemorate special occasions. We take pride in our products and offer the highest quality of religious gifts for all occasions - Baptism, First Communion, Confirmation, wedding, or for other spiritual or sacramental occasions.
###