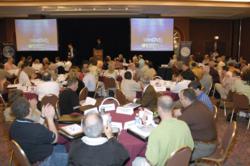 Seven keynote speakers and 60+ best practice presenters confirmed.
(PRWEB) December 09, 2011
The 2012 Global TapRooT® Summit, February 29 to March 2, 2012, Flamingo Las Vegas Hotel, Las Vegas, Nevada will attract global leaders to connect, engage and learn best practices for:
Saving lives
Reducing risk
Improving safety
Changing behavior
Stopping human errors
Improving production
Eliminating sentinel events
Managing performance improvement
Creating effective performance measures
Enhancing equipment reliability and maintenance
Learning the latest improvements to root cause analysis and investigation techniques
Eleven exclusive pre-Summit courses will be held February 27-28, 2012 including:
Advanced TapRooT® Techniques
Advanced Trending Techniques
TapRooT® Analyzing and Fixing Safety Culture Issues
Stopping Human Error
Risk Management Best Practices
Fatigue Risk Management Training
TapRooT® Evidence Collection Course
TapRooT® Quality/Six Sigma/Lean Advanced Root Cause Analysis Training
Getting the Most from Your TapRooT® Software
2-Day TapRooT® Incident Investigation & Root Cause Analysis Course
Special 2-Day Equifactor® Equipment Troubleshooting and Root Cause Analysis
For more information, please visit the event's Web site, http://www.taproot.com/summit.php, or contact the TapRooT® A-Team at info(at)taproot(dot)com or (865) 539-2139.
About System Improvements
System Improvements has 40+ highly skilled instructors/investigators/facilitators who teach public and onsite TapRooT® Courses globally and provide on-site consulting. Companies around the world have used the TapRooT® system to help people investigate accidents, incidents, quality problems, equipment failures, schedule delays, cost overruns, hospital sentinel events, and many other types of problems. TapRooT® is also used to improve the effectiveness of audits, observations, and self-assessments in proactive improvement efforts. More information about the company is available at http://www.taproot.com.
###