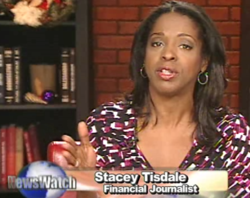 Fairfax, VA (PRWEB) December 09, 2011
With lingering effects of the recession and the holiday season fast approaching, it is crucial for Americans to find a way to manage holiday shopping without overspending. That is why Financial Journalist & Author Stacey Tisdale spoke with NewsWatch to offer her very own "Survival Guide to the Holidays."
Some tips from Stacey are:

Shop Smarter - Go Shopping with a list and stick to it - think about the price range for each person in advance.
Don't Bust the Budget - Avoid "borrowing" money from savings accounts. The holidays are not an emergency and Americans should work from what you have. Prepaid cards are a practical alternative, and they are safer than cash. They also help keep budgets in tact.
On air financial journalist Stacey Tisdale has reported on business and financial issues for more than 15 years. Ms. Tisdale authored a book which was released in September 2007, titled The True Cost of Happiness: The Real Story Behind Managing Your Money. (Publisher: John Wiley & Sons). A financial expert, Stacey has created a life skills and financial literacy curriculum called Winning Play$ for high school students in conjunction with NFL Hall of Famer Ronnie Lott's All Stars Helping Kids Foundation, which was awarded the U.S. Department of Education's Excellence in Economic Education award for 2010. The National Association of Black Journalists awarded Stacey its 2011 Community Service Award for the Winning Play$ program as well.
Stacey is the Financial Correspondent for PBS national newsmagazine show Need to Know. In addition, she is a financial expert on NBC's Today Show. She is also a blogger on the Huffington Post – Black Voices platform. From 2002 to 2004, Stacey filed business and consumer reports for all of the CNN networks, including, CNN, Headline News and Marketsource which serves more than 600 local stations. Her experience also includes hosting and anchoring on "Tech Live," TechTV's daily news program. During the 1990's Ms. Tisdale was a business correspondent for CBS News, CBS MarketWatch, The Early Show, CBS Evening News, and CBS Radio.
NewsWatch is a weekly 30-minute consumer oriented television show that airs nationwide. NewsWatch regularly feature top celebrities, health tips, technology products, medical breakthroughs and entertainment news on the show. The show airs in 180 markets nationwide as well as all of the top 20 broadcast markets in the country, and is the preferred choice for Satellite Media Tour and Video News Release Distribution. For more information, head to newswatchtv.com
###