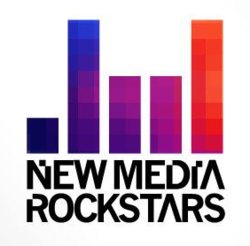 IRVINE, CA, (PRWEB) December 10, 2011
NewMediaRockstars, an online magazine focusing on new media and entertainment announced its launch Dec. 6 with a feature of YouTube sensation MysteryGuitarMan.
Conceived by co-founders Benny Luo, Chief Executive Officer, and Melly Lee, Chief Creative Officer, the publication offers a unique and fresh perspective, encapsulating the top stories trending in new media and entertainment.
Not only does the magazine serve as a hub for current news articles regarding new media and entertainment, NewMediaRockstars also celebrates creative minds, accomplished in new media.
Luo, a former Internet Marketing Consultant and one of the top three finalists — out of 80,000 applicants — in the six month competition to be Charlie Sheen's #TigerBloodIntern, said that he and Lee wanted to "help bridge the gap between new media and mainstream entertainment."
The idea emerged after Luo and Lee recognized an increasing amount of creative individuals using the online medium to create and share their content. "Through their popularity, we've seen more businesses get involved, showing that there is a market and audience online," said Lee.
Lee, who is known for producing stunning images via her dexterity in photography, said that as the Internet gets more prevalent and as the younger generation shapes and grows with it "it's only a matter of time before the Internet and other mainstream technologies jump on-board to this new frontier and converge."
Luo and Lee recruited a team of writers to build what Luo called "an amazing team that shared the same vision as I."
Luo, Lee and their editorial staff seek to become the intersection between new media and mainstream entertainment. NewMediaRockstars has created a publication dedicated to producing timely, engaging content and a community where individuals can share inspiring stories pertaining to achievements in new media.
Website: http://www.NewMediaRockstars.com
###