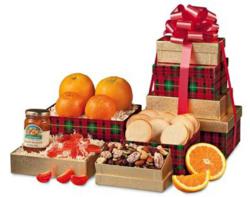 Celebrate 2012 and the arrival of HoneyBell oranges by sending New Year's gifts from Cushman's to friends and family.
Medford, Oregon (PRWEB) December 13, 2011
Cushman's, America's citrus gift experts for over 60 years, celebrates the start of the new year with healthy and tasty New Year's gifts, including our juicy HoneyBell oranges, ruby red grapefruit, and more.
Help family and friends 2012 healthier by sending them a healthy New Year's gifts consisting of HoneyBell oranges from Cushman's. Our HoneyBells are uniquely shaped, ultra-sweet, ultra-limited edition fruits and are available only for a few weeks every year in January. They truly represent a unique citrus eating experience. Now that HoneyBell season is right around the corner, consider sending our First & Last Pick Cushman's HoneyBells and other New Year's gifts today before they're gone! Both boxes are filled with incredibly delicious, first-quality fruit full of juice.
Celebrate the New Year and the arrival of HoneyBell oranges by sending New Year's gifts from Cushman's to friends and family. The Crown Jewel HoneyBells are sure to delight any recipient. Packaged in a decorative carton, these large HoneyBells get the royal treatment. Family, friends and business associates will feel like royalty when they open this regal gift of nine deliciously sweet, plump, and hand-selected Cushman's® Crown Jewel HoneyBells. This and many of our other healthy New Year's gifts are limited edition and won't last long!
Given that we have dozens of specialty New Year's gifts at affordable prices, why not share them with family and friends? Our Happy Little Holidays is priced so low that everybody's "back on" the gift list. Send two 5-ounce jars of our own special southern-style rich Strawberry Preserves and HoneyBell Marmalade, packed with three extra-juicy Navel Oranges, a generous handful of HoneyBell Candies and one super-sweet Crown Ruby Red Grapefruit. Cushman's New Year's Gifts are the perfect way of saying thanks or Happy New Year from far away!
Ring in New Year by starting a new tradition – sending HoneyBell oranges and Cushman's elegant gift towers to loved ones. For a more decadent treat, look no further than the Cushman's Gold & Plaid Tower – a sweet stack they'll always remember. This gift tower is full of sweet treats from HoneyBell oranges to hard candies. It's all packed and stacked in our tartan gift boxes, tied with a lavish ribbon and bow. Shop for New Year's gifts at Cushman's today and make sure that loved ones get the New Year off to a fun and healthy start!
Remember to order all New Year's gifts and HoneyBell oranges before the shipping cut-off dates to ensure timely arrival. The last day to order using regular shipping is December 19th; the last day for 3-day express is December 27th; the last day for 2-day express is December 28th; and the last day for next day delivery is December 29th before 10am PST.
All orders are backed by a 100% guarantee. If those who receive our New Year's gifts are not fully satisfied, Cushman's will provide either an appropriate replacement or a full refund. Visit http://www.honeybell.com for more information.
About Cushman's Fruit Company
Founded in 1945 and headquartered in West Palm Beach, Florida, Cushman's Fruit Company is a multi-channel marketer of specialty foods, primarily citrus, from Florida's premium groves and the finest farms and orchards across America. The company is best known for its Cushman's HoneyBells® citrus, a rare natural hybrid of Dancy Tangerine and Duncan Grapefruit, and the World's Only Limited Edition Fruit®, as well as its citrus fruit offerings year-round. Today, Cushman's Fruit Company sells its products primarily through its catalog and http://www.honeybell.com, as well as through foodservice and retail channels. Cushman's Fruit Company is a Harry & David company which includes the Wolferman's brand.
###