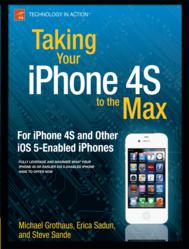 New York, NY (PRWEB) December 09, 2011
Apress' Taking Your iPhone 4S to the Max as well as iPhone 4S Made Simple will be featured on the "AM Tri-Cities" radio show on the WKPT ABC Radio network on December 13, 2011 at 10:00 AM. Radio stations AM 1400, AM 1490, AM 1590, FM 94.3, FM 97.7, and FM 97.9 will feature these key resources in their "New for the Holidays 2011" book review. Apress—a leading iOS, iPhone, and iPad books and media publisher for developers—offers hobbyists, power users, and consumers two of the first books on the new iPhone 4S that runs on the new iOS 5 operating system.
Taking Your iPhone 4S to the Max is written by Erica Sadun, an expert on Apple products and bestselling author, and The Unofficial Apple Weblog's (TUAW) Steve Sande and Micheal Grothaus. This is the perfect holiday selection for power users looking to get the most out of their new iPhone 4S or even an older iPhone running iOS 5. Written by some of the leading experts on Apple iPhone and iOS, this book offers insights and knowledge iPhone lovers will clamor for.
Additionally, for those who are not power users or tech-savvy hobbyists, the iPhone 4S Made Simple will be an ideal guide. Written by Martin Trautschold of the Made Simple Learning devices training company and Rene Ritchie of TiPb or The iPhone iPad and iPod touch blog, this book guides readers along a more basic and visual journey for getting started from the ground up with the new iPhone 4S, or an iPhone now using the new iOS 5 operating system. These illustrated, detailed books give step-by-step instruction on using all the bells and whistles of an iPhone.
Taking Your iPhone 4S to the Max

ISBN13: 978-1-4302-3581-1
300 Pages
User Level: Beginner
Publishing December 12, 2011, but available now as part of the Alpha Program
Available eBook Formats: EPUB, MOBI, PDF
Print Book Price: $24.99
eBook Price: $17.49
iPhone 4S Made Simple

ISBN13: 978-1-4302-3587-3
850 Pages
User Level: Beginner to Advanced
Publication Date: December 14, 2011
Print Book Price: $29.99
eBook Price: $20.99
About Apress Media
Apress Media LLC is a technical and business publisher devoted to meeting the needs of IT professionals, software developers, programmers, and business leaders with more than 1,000 books in print and electronic formats. Apress provides high-quality, no-fluff content that helps serious technology professionals build a comprehensive pathway to career success. For more information about Apress' innovative approach to publishing, please visit http://www.apress.com.
###