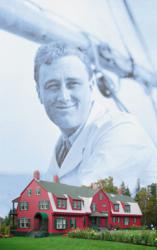 There will be many new surprises for the coming 2012 season.
New Brunswick, CA (PRWEB) December 09, 2011
After a successful 2011 season that saw a five percent (5%) increase in visitors over the twenty percent (20%) increase for the 2010 season, Roosevelt Campobello International Park is preparing for 2012.
The coming season will offer many new features, including expansion of the highly successful "Tea With Eleanor" the daily tea and talk on Eleanor Roosevelt's life on Campobello Island. Seating will double. The "Tea" will remain free to visitors on a first come, first serve basis.
In addition, the park will be celebrating the Fiftieth anniversary of the dedication of the FDR Memorial bridge that connects Campobello Island and Lubec, Maine. The international bridge was dedicated in 1962, Eleanor Roosevelt was visiting Campobello at the time, but was too ill to speak at the ceremony. She would pass away later that winter.
The park, will also participate in the rededication of the FDR Memorial that was first unveiled in 1946 and placed at the Campobello Public Library and Museum. The memorial was one of the first monuments honoring the late president after his death in 1945. Several islanders who attended the original dedication will be invited to attend the ceremony.
The international bridge and FDR memorial rededication will occur in early August 2012.
The restoration work continues on the Adams Lodge (formerly the Lupine Lodge). The 3 main buildings were acquired from New Brunswick Parks & Recreation in 2010 and added the park core of five historic cottages.
The Adams cottages required new foundations, new roofing, new floors, however the original logs of the structures have been preserved. Due to age and weather damage the famous massive double fireplace will be taken apart and reconstructed.
The Roosevelt Park Commission is expect to decide how the Adams Lodge will be incorporated in the park sometime over the winter, with hopes that the main lodge will be in operation by mid summer.
###