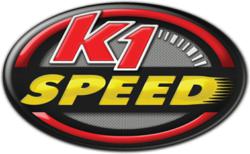 Irvine, CA (PRWEB) December 09, 2011
Building on years of success in the Southern California and Pacific Northwest markets, K1 Speed is now bringing indoor go kart racing, and with it a re-imagined corporate experience, to Florida. K1 Speed Fort Lauderdale, which features 75,000 sq. ft. of space, two professionally designed racetracks, high-performance, zero-emission electric karts capable of 45mph, and a large collection of authentic racing memorabilia, is open both to the public and to corporations looking to host team building exercises, management meetings, end-of-year parties, and other such events. Built as a first-class entertainment venue, K1 Speed believes its new Fort Lauderdale center can inject the Southern Florida corporate community with a dose of adrenalin.
To achieve this goal, K1 Speed Fort Lauderdale offers potential clients a range of attractive features, including meeting rooms and catering options. However, it is the indoor karting that truly separates K1 Speed from other competitors in the marketplace. Both novice and veteran drivers alike have the opportunity to experience authentic, wheel-to-wheel racing on one of two professionally designed and constructed racetracks that feature collision absorbing barriers for the safety of racers. For corporate functions, the center's two tracks can even be combined to form what K1 Speed describes as a "super track" -- a truly challenging layout of corners, braking zones, and straight sections that allow individuals to flex the muscles of the company's advanced, high-performance electric go karts.
The zero-emission, all-electric go karts are perhaps the most defining feature of K1 Speed, and are what the company has built its success and reputation on. While other indoor go kart tracks exist throughout the country, K1 Speed's electric karts feature superior performance to gas-powered alternatives and provide for a cleaner, more agreeable atmosphere. Because there are no emissions, K1 Speed's Fort Lauderdale center is noticeably lacking of any exhaust fumes, and the heat that individuals often associate with indoor kart tracks (a by-product of dozens of internal combustion engines all operating simultaneously in an enclosed space) is absent altogether. So too is the noise; in fact, but for the quiet wine of an electric motor spinning many thousands of revolutions per minute, the loudest moving part on K1 Speed's electric karts is the tires as they drag across the high-grip racing surface. These features and more make K1 Speed's go karts unlike anything you have likely experienced in the past.
To meet the needs of corporate groups, K1 Speed Fort Lauderdale has on-site meeting rooms which are designed for businesses and corporations looking to host team building exercises, product launches, private parties, or seminars. A variety of catering options are available and the meeting rooms, which vary in size to meet the needs of different sized parties, feature state-of-the-art audio / visual systems which include 110" projection screens, DVD players, and Wi-Fi Internet access. The meeting rooms not only provide everything that a company would need to host a business meeting or presentation, they provide a professional atmosphere as well, making K1 Speed a viable alternative to many traditional meeting venues. As K1 Speed is at its core an indoor go kart racing company, it recommends pairing a race package with its room rental options for the most enjoyable, unforgettable experience.
Though racing is the focus, it is not the only thing K1 Speed has to offer guests. When not on the track, racers can enjoy themselves in the spacious lobby, which features a Pit Cafe stocked with snacks and refreshments, and official racing memorabilia including racing suits, helmets, and authentic race cars. Additionally, the center has comfortable seating areas with club-like lighting and plasma televisions that display racing, action sports, and live telemetry from the competitors on the track.
K1 Speed Fort Lauderdale is conveniently located for residents of the Greater Fort Lauderdale area, including those living in Miami, Miami Beach, Pompano Beach, Hollywood, Boca Raton, Plantation, and Sunrise.
About K1 Speed:
K1 Speed was founded in 2003 and is the nation's largest indoor kart racing chain. Each facility boasts 50,000-90,000 sq. ft. of space which feature real road courses, meeting rooms, snack bars and spacious lobbies with genuine racing memorabilia. Visitors can take advantage of a variety of different race packages to race against their friends or the clock. K1 Speed can accommodate 10 to 800 guests and offers a unique venue for corporate functions, team building events, birthday parties, bachelor parties or other private ceremonies.
###