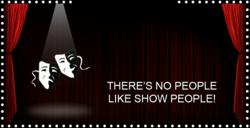 Attending a show is one experience, now you can experience being IN a show," adds Schneider, "Also, it's not too late to give Broadway Fantasy Camp as a holiday gift!"
New York, NY (PRWEB) December 12, 2011
One to Five-Day Experience Immerses Adult Participants of All Skill Levels in the World of Broadway;
Working With Seasoned Theatre Professionals,
Broadway Fantasy Camp Culminates in Fully Staged Revue
Shorter sessions of 1-3 days also available
The perfect holiday gift for a Broadway Starlet. Gift Certificates available.
Visit Online at http://www.BroadwayFanCamp.com, to register call 212-713-0366
Beginning December 12, 2012
If you are an adult bitten by the show biz bug --– if you dream of singing and dancing or acting on stage in New York – then Broadway Fantasy Camp (BFC), broadwayfancamp.com, is the ultimate experience for you or someone you love. Rock 'n rollers have their Fantasy Camp, so do sports enthusiasts. Now it's Broadway's turn as Broadway Fantasy Camp puts each participant in the spotlight. Each five day session begins with auditions, headshots taken by a professional photographer (with each participant able to keep the finished product). Then, revue rehearsals created specially for each group of participants around the work of a Broadway songwriter or genre, culminating in a private performance for friends and family on a bona fide New York stage. We end with a classic Broadway-style opening night party at a legendary Times Square eatery.
Three five-day sessions are currently being developed for the Summer 2012 program, drawn from some of the greatest names and best-loved material in the American Songbook. Included in each of the five-day sessions are seminars on applicable elements of the Broadway experience (such as stage make-up), as well as end-of-day sessions with actors, directors and designers working in today's Broadway theatre. Shorter 1-3 day experiences are also available.
"We are excited to expose our participants to an authentic Broadway-caliber experience in a friendly and nurturing environment," said Lauren Class Schneider, founder of Broadway Fantasy Camp. "We are gearing BFC to adults of all ages and levels of expertise; our only real requirement is enthusiasm. We want participants to live out a dream or two – creating a lifetime of memories while they're at it. Attending a show is one experience, now you can experience being IN a show," adds Schneider, "Also, it's not too late to give BFC as a holiday gift!"
More information, Summer/Fall 2012 session dates, rates, gift certificates and booking information may be obtained by visiting the BFC's newly launched website: http://www.BroadwayFanCamp.com. There you will find detailed information on each of three five-day camps currently scheduled, as well as shorter one-, two- and three-day sessions. For further information, email info(at)broadwayfancamp(dot)com or call 212-713-0366.
Broadway Fantasy Camp founder, Lauren Class Schneider, has been producing, directing and stage-managing theatre, television and live events for almost 30 years. For the past 15 seasons Lauren has produced the Drama Desk Awards and worked on numerous Tony, Grammy, Daytime Emmy and MTV Video Award telecasts. She has been the coordinating producer for "Broadway Salutes," which honors professionals earning their living on Broadway for 25, 35 and 50 years. She was also the coordinating producer for the outdoor extravaganza celebrating Mamma Mia's 10th Anniversary on Broadway. For the past three seasons, she has produced the Gala for the American Theatre Wing, which presents the Tony Awards along with the Broadway League. Lauren is a member of The Broadway League and a voter for the Tony Awards and the Drama Desk Awards. She has been a guest lecturer at New York University and Yale. She is a featured video columnist with her series Class Notes, seen at BroadwayStars.com.
###