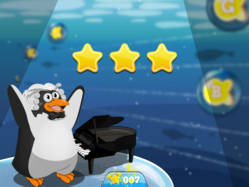 Menlo Park, Calif. (PRWEB) December 09, 2011
Pluto Games, a fast-growth mobile edutainment provider, today announces it has raised $500,000 in seed funding from games incubator YouWeb and prominent angel investors. The company is also unveiling a new version of its iPad app Pluto Learns Piano. The company plans to use this funding round to transform tablet devices into fun learning tools and will launch apps across new categories. Pluto Games' mantra is powerful: teaching via touch.
The company's flagship title, Pluto Learns Piano, combines scrolling gameplay dynamics with musical notes to get children excited to learn music. The games follow the main character, Pluto the Penguin, on a quest to master a variety of songs on the piano. Unlike most other educational games, Pluto Learns Piano is free to play, with stars awarded based on performance in completing levels. As the player collects stars, Pluto unlocks new songs to learn.
"With families looking to provide the best in education for their children, participatory and responsive technology like the iPad has the potential to revolutionize learning," says Pluto Games founder Luis Sampedro. "The combination of proven gaming principles with subtle educational lessons is a powerful tool that can give children a head start, all while they have fun!"
"My two children really enjoy this app; after learning the songs they have now managed to teach themselves how to play them on our home piano," says user Expatchildren in an iTunes App Store review. Silkypico says, "Not only is this the most adorable game EVER, the kids are also secretly learning their music notes! Love it!!! Added bonus: I get a kick out of playing it myself! Bravo, Pluto!"
Pluto Games was founded by Luis Sampedro, Entrepreneur in Residence at the YouWeb incubator, birthplace of successful gaming companies OpenFeint (recently acquired for $104M to GREE), CrowdStar, iSwifter and Sibblingz Spaceport. Now, six months after the incubation's initial product launch, Pluto Games has spun off on its own, with $500K in funding from YouWeb and prominent angel investors, including David Roux, co-founder and Chairman of Silver Lake, Brett Wander, Chief Investment Officer at Charles Schwab, and Praful Shah, former VP Marketing at WebEx.
"2012 will be a breakthrough year for education on tablet devices. It's not a coincidence that tablet adoption is skyrocketing while sales of physical children's books are declining faster than every book segment, other than fiction," says YouWeb Chairman Peter Relan. "With Pluto, we are betting on a talented team and a vision that tablets will become the best digital educational tool since the Internet itself."
Pluto Games is currently hiring artists and stellar engineers who are still kids at heart. To join the team visit: http://bit.ly/u5wa5R
To download Pluto Learns Piano for iPad visit: http://bit.ly/vvLlyS
Follow Pluto Games on Twitter: http://bit.ly/tAt4BH
Follow Pluto Games on Facebook: http://on.fb.me/skSJ9a
About Pluto Games
Pluto Games is led by Luis Sampedro, formerly an Entrepreneur in Residence at YouWeb, Inc. Pluto Games is YouWeb's fifth incubation to spin off into its own company. Songs offered on Pluto Learns Piano have been played over 2 million times since the title launched in May 2011.
About YouWeb:
YouWeb was created by Peter Relan — a successful serial entrepreneur, Silicon Valley executive, angel investor, and technology veteran for over 20 years. YouWeb invests in helping brilliant developers/engineers who have never founded a start-up. Generally speaking, YouWeb's focus is consumer Internet and mobile with an emphasis on social entertainment.
###