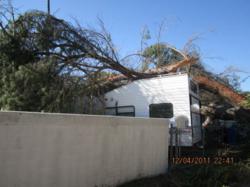 "Unfortunately, disasters do happen. Being under-insured only compounds the problem. BMCC Insurance is committed to helping people determine the proper levels of coverge." Kristine Ter-Arutyunyan
Los Angeles, CA (PRWEB) December 10, 2011
In the wake of the recent high winds in California, online auto insurance agency, BMCC Insurance, reminds consumers of the importance of being properly insured. In particular check homeowners' insurance and auto insurance policies.
The high velocity Santa Ana winds that rattled California recently caused millions of dollars in damages. Unfortunately, many residents found themselves either under-insured or not insured at all for their losses. The losses were not restricted to homes. Many car owners, who only had liability, were exposed to big loses because they were not fully covered.
This event provides the perfect time to check for deductible levels and types of coverage. Does the policy cover for what the insurance industry refers to "acts of god" such as wind, flood or earthquake? Flood and earthquake damage is definitely not covered by a regular homeowner's insurance policy; special policies are required to be covered in their event.
Check with an agent to make sure that proper coverage exists or check with a BMCC agent. The only thing worse than being the victim of a tragedy, is being caught without the proper insurance to cover losses.
BMCC Insurance is a multi-line insurance agency servicing both residential and commercial sectors. Areas of expertise include home, auto, motorcycle, life and commercial lines.
To contact BMCC Insurance, e-mail Kyle Kennon at kyle.k(at)bmccinsurance(dot)com or Kristine Ter-Arutyunyan at Kristine.t(at)bmccinsurance(dot)com or call 855.855.2622.
###