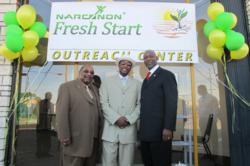 Los Angeles, CA (PRWEB) December 10, 2011
Mr. Roger Davis, Narconon Fresh Start Director of Community Relations for the Inner City was named the Executive Director of the new Narconon Fresh Start Outreach Center in South Central Los Angeles. Mr. Davis hosted the grand opening ceremonies, introducing attendees and community leaders to the new center, which will provide free life skills courses to the members of the surrounding area.
Bishop Edward Turner, pastor of The Power of Love Christian Fellowship & founder of the H.O.P.E. for Life Foundation gave a dedication/blessing & opening remarks, praising Roger Davis for his work in the field of drug education in the community over the years. He told a story of how he witnessed Roger's ability as a speaker, mentioning how impressed he was when Roger spoke to a group of inmates at the LA County Jail, gaining both their attention their respect.
Roger thanked everyone for coming and acknowledged the VIPs who were in attendance: Bishop Edward Turner; Rev. Alfreddie Johnson, founder of The World Literacy Crusade; Bishop Harris from Watts; Juan Bogan, Executive Director of the Church of Scientology of Inglewood; Ms. Scottie Gray, Executive Director of the H.O.P.E. for Life Foundation; Ms. Kit Whittle & Ms. Karen Segal from the Association for Better Living and Education (ABLE) International; Ms. Kathy Dion, Executive Director Narconon Western United States; and Mr. Larry Trahant, Executive Director, Narconon Fresh Start.
Mr. Davis then gave a brief history of Narconon; acknowledging Narconon founder, William Benetiz, who was inspired as an inmate to start the Narconon program after reading the book The Fundamentals of Thought by L. Ron Hubbard. He also remarked that the purpose of this new Outreach Center is to provide the community with Narconon Drug Education and Life Skills programs to assist at-risk youths and adults, preparing them to be successful members of society.
Roger Davis then called Bishop Turner, Bishop Harris, and Reverend Alfreddie Johnson to assist him in the ribbon cutting, which was acknowledged with applause and cheers from the attendees. Afterwards, everyone went inside for a tour of the new center, and learned more about the new Outreach Center curriculum. Attendees were given Narconon Ten Things About Drugs Booklets, while a Narconon informational video played on one of the television monitors.
Many of the guests welcomed the new center into their community. And, the community leaders agreed that this new center is a needed step towards restoring self respect for people in the community, who might otherwise be affected by drug influences.
For more information, on the Narconon Fresh Start Drug Rehabilitation and Education Program, please go to http://www.drugrehab.com or call 855-411-REHAB.
###