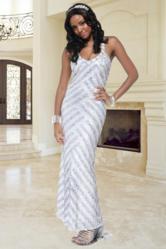 We are honored to be one of the top 10 Prom Stores in the US
Baltimore, Maryland (PRWEB) December 09, 2011
"Now hiring!" is the mantra at Synchronicity Boutique, the Baltimore-Washington area's "hottest special occasion clothing and accessory shop for adults and teens." To accommodate their anticipated 100% Growth from Prom Season 2011, Synchronicity Boutique is seeking fifteen dedicated and hard-working employees to add to their "Award Winning, Customer Service Oriented Team." Job openings include entry level "prom runners," cashiers, and salespeople. Both full and part-time positions are available.
"We are honored to be one of the Top 10 Prom Stores in the USA," Mazer said. "Young ladies have spent years dreaming of "the perfect prom dress." With the addition of our exclusive Top 10 Prom Tuxedos, expertly designed to match this year's hottest styles and colors, young fashionistas have more choices than ever. Our goal is to make prom shopping pleasant and stress-free, despite offering the largest selection of styles and sizes in the entire Mid-Atlantic Region. To do that, our Team has to be "The Best", and we are proud to offer New Hires the chance to develop and hone their job skills well before the 2012 Prom Season has begun full-force."
Hiring such a large group requires a new strategy, and in this case, it will take the form of an initial Job Fair Monday, December 12th, through Friday, December 16th, with scheduled interviews from 11 AM -5 PM BY APPOINTMENT ONLY. Selected applicants will then be invited to return on Saturday, December 17th, from 8 AM to 10AM, for a 2 hour, in-store job overview, including an opportunity to demonstrate that they "have what it takes!"
Applications can be downloaded from Synchronicity Boutique's online application link, or candidates can stop by Synchronicity Boutique for a copy. Synchronicity Boutique is located at 25 Hooks Lane, Suite 105 (in Hooks Village), PIkesville (Baltimore), MD 21208.
Completed applications may be emailed to Career(at)MyDreamDress(dot)com, faxed to 410-486-1411, or dropped off at the store.
Named "Baltimore's Best Prom Store" by Baltimore Magazine, Synchronicity Boutique is known as the area's go-to place for one-stop formal wear shopping. Synchronicity Boutique outfits customers of all ages from all over the world for proms, Bat Mitzvahs, cocktail parties, Cotillions, homecomings, ring dances, graduations, Quinceaneras, Sweet Sixteens, college formals, military balls, pageants, weddings, and other black-tie events.
Open since 2003, Synchronicity Boutique is located in Hooks Village, at 25 Hooks Lane, off I-695 Beltway Exit 20. Current hours are Mondays through Saturdays, 10 a.m. to 6 p.m., and Sundays, noon to 6 p.m., and expand during prom season. Private appointments are welcome, but never required. Merchandise also can be viewed online and purchased by phone. For more information, call 410-486-8866 or 877.919.PROM or visit http://www.MyDreamDress.com.
Synchronicity Boutique is an Equal Opportunity Employer.
###