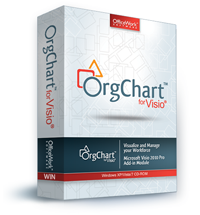 Visualize and Manage Your Workforce - Quickly and Accurately
Novato, CA (PRWEB) December 09, 2011
Office Work Software LLC announces that it now a Microsoft Visio partner in addition to being a Microsoft Silver ISV (Independent Solutions Vendor) Partner.
Microsoft will be promoting OfficeWork Software's new OrgChart™ for Visio® at select retail stores. The new OrgChart™ for Visio® is a powerful Visio Ad-in module that transforms Microsoft Visio 2010 (Professional or Premium) into a powerful, fully automated Human Capital Management modeling and visualization tool.
OrgChart for Visio allows businesses to better manage, organize and visualize their workforce. Users will easily integrate the organizational design and planning process for the most efficient resource utilization. Talent management and succession planning becomes streamlined. Other applications include helping the sales organizations better manage key accounts, and IT to track assets assigned to individuals.
Create dynamic, data-connected Organization Charts. Connect Organization Charts to one or more data sources including Microsoft Excel, SQL Server, SharePoint Services, or any ODBC compliant database using the Data Selector and Auto-Link wizards. Always keep the linked data in the diagrams up-to-date effortlessly using Auto-Refresh. Publish diagrams to the Web, PDF, Microsoft Office and SharePoint.
OrgChart for Visio - visualize and manage the workforce.
Attend any of the four demo sessions taking place on:

December 12, 2011 from 1pm -3pm PST at the Microsoft Retail Store – Century City
December 13, 2011 from 12pm- 2pm MT at the Microsoft Retail Store – Scottsdale AZ
December 14, 2011 from 12pm- 2pm MT at the Microsoft Retail Store – Denver CO
December 15, 2011 from 12pm- 2pm MT at the Microsoft Office – Lehi, Utah
To attend send an email to: harryz(at)microsoft(dot)com and put in the Subject line: Would like to attend the OrgChart for Visio demo. Please state the desired location to attend.
To learn more about OrgChart for Visio visit http://www.orgchartforvisio.com or send an email to: info(at)officeworksoftware(dot)com
"This team is truly excited about becoming a Visio partner" said Joe Kolinger, CEO of OfficeWork Software. "OfficeWork has established a strong relationship with the Microsoft team and looks forward to working with them presenting OrgChart for Visio throughout the country. OrgChart for Visio leverages OfficeWork Software's substantial expertise in organizational charting and analytics with the OrgChart Pro application, but now places this rich functionality in the Microsoft ecosphere. By leveraging Visio 2010, OrgChart for Visio users now have access to a very big world of visual, data-connection, automation, and publishing options.
Everyone should see this solution at one of the Microsoft retail stores this month."
About OfficeWork Software:
Founded in 2005 OfficeWork Software is a leading provider of software that allows companies to visualize and manage their workforce resourcing requirements. For more information about OfficeWork Software, our products or consulting services visit our websites: http://www.officeworksoftware.com, http://www.orgchartforvisio.com, http://www.orgchartpro.com, http://www.turboproject.com
Press Contact:
Kristina Landies, Marketing Manager
Kristina(at)officeworksoftware(dot)com
415.246.7264
Legal:
OfficeWork Software, OrgChart are trademarks of OfficeWork Software LLC. Mircrosoft, Visio are registered trademarks of Microsoft Corporation. All other trademarks and product names are the property of their respective companies.
###