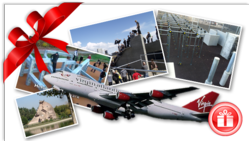 Miami, Florida (PRWEB) December 14, 2011
T'is time for sharing once again, and in the spirit of the season, Parkulture decided to publish the first ever 'Ultimate Parkour and Freerunning Gift Giving Guide". So take note, parents, friends an loved ones as they submit for consideration a curated list of goods and services that are sure to elevate the giver to "favorite" status.
"Putting this list together was a lot of fun," says Adrian Gonzalez, co-founder of Parkulture. "But it also involved some serious research to find quality products that would truly reflect the interests of parkour and freerunning practitioners."
To practice and improve their reader's freerunning skills, they built the a European getaway aboard Virgin Atlantic to visit some of the best parkour parks in the world. For those with a smaller budget, a brand new pair of KO Generation 2 shoes. Round that out with equipment to build a Parkour gym and the Closegrip Universal Sports Vest to help build upper body strength.
To cater to freerunner's sense of style they unearthed the Peter Parkour tee shirt and the Casio G-Shock Classic watch. On the technology side they selected the Canon EOS-1D X to capture their member's freerunning feats and the Adobe Creative Suite CS5.5 to edit their parkour films.
One of our most unique item on their list is the Gerber Apocalypse Kit. "Parkour and Zombies seem to go together... Dont ask me why," says Roch Nakajima, co-founder of Parkulture. "We had to add this item in there, but note that we do not condone any type of violence, even against zombies!"
The whole gift guide can be viewed at Parkulture website. Shopping for a loved ones just got easier, even if he/she is a freerunner or traceur.
Parkulture LLC is a Florida based international public benefit organization, with over 125,000 members, dedicated to the comprehensive development of parkour and freerunning at an amateur level. It is also the organizer of the Cross Urban Scramble and Parkulture Festival, the first international amateur competition.
###