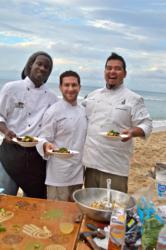 Voted one of the top ten food and wine events in the world, the St. Croix Food & Wine Experience attracts visitors, acclaimed wine makers and celebrity chefs.
(PRWEB) December 12, 2011
The 12th annual St. Croix Food & Wine Experience (April 17 - 22, 2012) is proud to announce the participation of an award-winning group of celebrity chefs including Sue Zemanick, Merlin Verrier, Roberto Trevino, Ana Sortun, Orlando Santos, Evelyn Paul, Howie Kleinberg, Eric Greenspan and Govind Armstrong. This sun-soaked celebration brings together local chefs, celebrity chefs, distinguished winemakers and wineries, for five days of culinary bliss in paradise. Events include wine dinners, a fun-filled competition between celebrity and island chefs, cooking classes for kids, an oceanfront food and wine tasting event, wine seminars and more. A complete list of events is available at http://www.stcroixfoodandwine.com/events.
Ticket prices range from $50 per person for a single event to $5,000 for an all-access VIP sponsor pass for two guests. To purchase tickets to the St. Croix Food & Wine Experience, or for information on events, guest chefs and sponsorship opportunities, visit http://www.StCroixFoodandWine.com or call 340-773-9898. Tickets to A Taste of St. Croix, held on Thursday night, go one sale in March. All other tickets are available for purchase in advance. Funds raised from the events support the St. Croix Foundation and other non-profit and educational organizations.
The 2012 Celebrity Guest Chefs include:
Govind Armstrong (Los Angeles) – Govind Armstrong made his mark with his Table 8 and 8oz Burger Bar restaurants in Los Angeles and Miami. He has appeared on The Oprah Winfrey Show, Iron Chef America, The Today Show, Top Chef, Top Chef Masters and in Bon Appetit, Gourmet, O Magazine, and People's 50 Most Beautiful People issue. He authored "Small Bites, Big Nights: Seductive Little Plates for Intimate Occasions and Lavish Parties," is a consultant chef to Air New Zealand, on Macy's culinary council, and a guest chef for cruise lines. He is expanding 8oz Burger nationwide and developing Post & Beam in Los Angeles.
Eric Greenspan (Los Angeles) – Eric Greenspan is the chef and owner of The Foundry and The Roof in Los Angeles, California. Greenspan, co-host of A&E's "Fix This Kitchen", has been featured on several television shows such as "Best Thing I Ever Ate", "The Traveler's Guide to Life", was a contestant on Food Network's reality culinary competition series "The Next Iron Chef" and triumphed against Bobby Flay on "Iron Chef America". Eric has also served as a guest judge or consultant on "Bar Rescue", "Hell's Kitchen", "Extreme Chef" and "Jamie Oliver's Food Revolution". Eric graduated with a Diplomme de Cuisine Superior in 1998 from Le Cordon Bleu Ecole de Cuisine in Paris. He has worked with David Bouley, Rocco Despirito, and Alain Ducasse, and Ferran Adria.
Howie Kleinberg (Miami) – Known for his star turn on Bravo's Miami season of Top Chef, Howie Kleinberg is the owner and chef of Bulldog Barbecue and Bulldog Burger in Miami. Kleinberg's culinary education started at Johnson & Wales University and he has worked with award-winning chefs such as Mark Militello at Mark's South Beach, Tim Andriola at Timo, E. Michael Reidt at Wish and Michael Bloise at Tantra, and as part of the The Ritz-Carlton Key Biscayne's opening team. Kleinberg has participated in the annual Food Network South Beach Wine & Food Festival since 2007.
Evelyn Paul (Atlanta) – Born on St. Lucia, Evelyn Paul relocated to the USA to attend the Peter Kump Culinary Arts School. While in NYC, she worked at cutting-edge restaurants including Match, Indochine and Thom. She returned to the Caribbean as the full-time private chef in the US Virgin Islands. She has trained with notable chefs including Douglas Rodriguez, Gary Robbins and Jonathan Eisman. She has appeared on CBS Atlanta, Fox TV Atlanta and in the Atlanta Journal Constitution, Jezebel, Daily Candy, The Atlantan and more.
Orlando Santos (Pittsburgh) - Born on St. Croix and a graduate of the St. Croix Educational Complex, Orlando trained in the classical and contemporary art of pastries and artisanal chocolates at Johnson & Wales. He is on the upcoming season of Top Chef Just Desserts and was on Food Network Challenge: Sugar Destinations. He is on the USVI team that will compete in the Culinary Olympics in Germany in 2012. He is the owner and Pastry Chef of Orlando's Chocolate Treasures in Pittsburgh, PA, where he lives.
Ana Sortun (Boston) – James Beard winner and owner of Oleana in Cambridge, Massachusetts, Ana Sortun has been called one of the country's "best creative fusion practitioners." Sortun's cookbook, SPICE; Flavors of the Eastern Mediterranean, was nominated for Best Cookbook by the James Beard Foundation and is a best seller according to the Boston Globe and LA Times. Ana competed on Top Chef Masters and has participated in the St. Croix Food & Wine Experience in 2011 and 2012.
Roberto Treviño (Puerto Rico) – Roberto Treviño has been featured in Condé Nast Traveler, The New York Times, Bon Appétit and top culinary TV shows. He battled Mario Batali on Food Network's Iron Chef America, has prepared a dinner at the James Beard House and is the chef/owner of the fabulous Budatai restaurant, El Barril, Bar Gitano, and, newly opened in 2011, Casa Lola, all located in Puerto Rico. He has participated in the St. Croix Food & Wine Experience in the past as can be seen here.
Merlin Verrier (Chicago) – Haling Santa Cruz, CA, Merlin Verrier's earliest memories are of the incredible foodstuffs California is known for. His love of food led him to enroll in the prestigious Western Culinary Institute in Portland, OR. Upon graduation, Merlin traveled to Chicago to work for celebrated chef Graham Elliot and quickly moved up the ranks, earning the title of executive chef and director of operations for the company. Merlin now oversees the gourmet sandwich shop Grahamwich, assists with culinary operations at Lollapalooza, and is working on the opening of Elliot's new bistro concept. His thirst for adventure has taken Merlin from Japan to South America drawing inspiration from every place he has visited.
Sue Zemanick (New Orleans) – Sue Zemanick's accolades started at a young age. She graduated from the Culinary Institute of America (CIA) in 2001. After working in Oceana in New York, Zemanick moved to New Orleans, Louisiana in 2003. She began working at the city's famed Commander's Palace before moving to Gautreau's in 2004, where she was named executive chef in 2005. In 2008 she was selected as a Food & Wine "Top 10 Best New Chefs," and named "Chef of the Year" by New Orleans Magazine and one of "5 Chefs to Watch" by Louisiana Cookin' Magazine. She was a Finalist for James Beard's "Rising Star Chef" Award in 2009, 2010 and 2011. Zemanick competed on Season 3 (2011) of Bravo TV's Top Chef Masters.
About the St. Croix Food & Wine Experience
The St. Croix Food & Wine Experience showcases the diverse cuisine and wine available on St. Croix, US Virgin Islands. The multi-day event includes gourmet dinners, wine seminars, wine auctions, and the annual culinary competition, A Taste of St. Croix. The culinary event series is the major fundraiser of the year for the St. Croix Foundation. The fundraiser also supports direct efforts to increase St. Croix tourism, culinary education and scholarship support. The event was started in 2001 by restaurant owners Katherine Pugliese of Eat@CaneBay, and Kelly Odom of Tutto Bene, and is recognized as the pre-eminent food and wine event in the Caribbean. For more information visit http://www.stcroixfoodandwine.com.
About The St. Croix Foundation
Proceeds from The St. Croix Food & Wine Experience are donated to The St. Croix Foundation, a non-profit organization focused on community revitalization, economic development, youth programs, education and additional needs in the community. For more information visit http://www.stxfoundation.org.
###