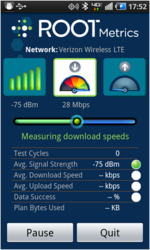 BELLEVUE, Wash. (PRWEB) December 09, 2011
RootMetrics™, the first independent service to measure mobile experience from a consumer's point of view, announced today the availability of a new version of the crowdsourcing Cell Phone Coverage Map App for Android devices. With this free app, AT&T, Sprint, T-Mobile and Verizon customers can use their Android smartphones to measure mobile performance and compare carrier scores. Since April, Android users have been part of the grassroots movement to map one true picture of the carriers' networks – a picture that had not been clearly or objectively available to U.S. consumers prior to the RootMetrics app.
The new release of the Cell Phone Coverage Map App provides an option to run the app in continuous testing mode, making it easier to comprehensively test the areas that are most important to users and allowing consumers to constantly test their networks.
Additionally, an updated graphical user interface provides users with an easy-to-understand view of what's being tested on the phone.
"We're thrilled with the response from the Android community, whose members have been actively using the app in their everyday lives and are proactively sharing ideas on how we can keep improving the service," commented Bill Moore, CEO of RootMetrics. "With this new release, we've integrated suggestions from the user community and we expect our existing community and new users will remain enthusiastic about data collection and reporting to help mobile users everywhere find the answer to the question, 'Which carrier is best for me?'"
In partnership with wireless consumers, RootMetrics is creating coverage maps that reliably illustrate the carriers' respective performances for side-by-side comparisons where it matters most – wherever an individual consumer most often places calls and uses his or her data service. The RootMetrics crowdsourcing app accurately measures the mobile networks the way that consumers really experience them and offers a view of signal strength, data speed and service reliability findings, including the location of network "dead zones."
The company's popular smartphone app and mapping service feature colorful maps indicating the performance of a select network's voice and data services in ranges from bright green (strong service) to shades of red (not so good) to black (very poor or no service). It is the only service that reports both voice and data performance findings right down to the city and street levels.
New Release Responds to Users Feedback and Provides New Benefits
With the new version of the app, RootMetrics makes every effort to respect both the user's privacy and the user's freedom of choice. The app doesn't collect any personal data during testing, and single test mode is still available for those who do not wish to run the app in continuous testing mode. The user can also choose whether to run continuous testing in signal mode only or to include data speeds. RootMetrics offers this level of choice because continuous testing in data mode is data-intensive, and RootMetrics will not impinge on the user's data plan without his or her consent.
Running the app in continuous test mode provides more opportunities to populate the RootMetrics Cell Phone Coverage Map. And with ongoing testing, more test results provide greater clarity on how the user's network is performing and insight into the changes that occur – even from the exact same location. Users can also map and observe results from commutes and other frequently traveled routes.
In addition to the Cell Phone Coverage Map App, RootMetrics is publishing a series of performance measurement reports on the U.S. wireless markets. The company has published more than 40 market reports* to date. People can review all of these RootScore Reports at http://www.rootmetrics.com/reports/.
Mobile performance varies depending on where people live, work or otherwise spend time.
The results of the RootMetrics RootScore Reports, combined with the geographical coverage maps at http://www.rootmetrics.com and via the Cell Phone Coverage Map Apps, allow people to make better decisions about the right carrier for their individual needs.
About RootMetrics™
Bellevue, Washington-based RootMetrics is building a movement to create a more open mobile market that democratizes mobile performance data. Deploying a sophisticated smartphone application, RootMetrics partners with consumers to collect network signal strength and data throughput speeds, aggregating collected metrics into easy-to-understand maps that rate each carrier's performance. This comparative data provides transparency into comparative carrier performance down to the most granular levels. For more information, please visit http://www.rootmetrics.com.
*RootScore reports are available for Atlanta, Austin, Baltimore, Boston, Buffalo, Chicago, Cincinnati, Cleveland, Columbus, Dallas, Denver, Hartford, Houston, Indianapolis, Kansas City, Las Vegas, Los Angeles, Louisville, Memphis, Miami, Milwaukee, Minneapolis, Nashville, New Orleans, New York, Oklahoma City, Orlando, Philadelphia, Phoenix, Pittsburgh, Portland, Providence, Richmond, Riverside-San Bernardino, Sacramento, Salt Lake City, San Diego, San Francisco, San Jose, Seattle, St. Louis, Tampa, Tucson, Virginia Beach, Washington, D.C.
###