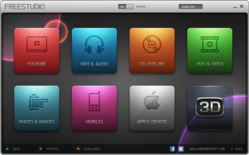 Our users keep us posted on all their needs, and we try to satisfy their requests. All our recent changes are made thanks to our users and hard work of the team
New York, NY (PRWEB) December 13, 2011
DVDVideoSoft constantly upgrades its major set of 40+ multimedia programs – Free Studio. It is a package of free and easy-to-use video, audio, image conversion applications which have been improved lately. The latest update comes with all the innovations and adjustments including new Free WebM Video Converter, new Free MP4 Video Converter, new supported formats in Free 3GP Video Converter, redesigned interface of YouTube programs and updated Free Video Dub.
Step changes of the renovations started with the addition of new formats to Free 3GP Video Converter. Now the program supports conversion of all popular video formats, and it meets the requirements of the most demanding users. Following users' requests DVDVideoSoft has also released 2 new programs: Free WebM Video Converter, an application to convert videos of popular video formats to WebM and back, and Free MP4 Video Converter, a program for conversion of various video formats to MP4 for playback on popular devices.
Video editing tool Free Video Dub has been updated, too. Now it supports more file formats. The most outstanding feature of the application is that it cuts MP4 videos with h.264 and MPEG4 codecs without re-encoding thus without losing original quality!
The company continued the improvement process by updating its YouTube downloaders: at present they have improved and slightly simplified interface. And also high-speed download from YouTube has been enabled. And the latest great innovation is that now Free Studio features compatibility with screen reading software to make the applications be accessible for visually impaired people. Now every user can enjoy the improved software without any problem.
The company's representative, Alex Wang: "We always try to stay in touch with our users, we communicate with them via our Helpdesk, our forum and different social networks, among them Facebook, Twitter, Google+. Our users keep us posted on all their needs, and we try to satisfy their requests. All our recent changes are made thanks to our users and hard work of the team."
DVDVideoSoft has in store some other pleasant surprises: the company plans to make MAC OS X compatible software very soon.
Any program, as well as the whole Free Studio package can be downloaded from the company's website http://www.dvdvideosoft.com.
About DVDVideoSoft:
DVDVideoSoft (http://www.dvdvideosoft.com) is an independent developer of multimedia software programs for video and audio processing. The company was founded in 2006 as an affiliate distributing paid software. Today DVDVideoSoft offers 45 multifunctional easy-to-use applications, it also writes step-by-step instructions on how to solve different multimedia tasks with the help of its programs and, if necessary, provides free comprehensive support in English, German, French, Spanish, Italian, Russian, Chinese and Japanese languages. Daily rate of visiotrs addressing http://www.dvdvideosoft.com is constantly growing and today reaches 350,000.
###